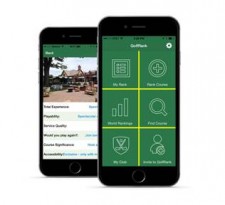 GolfRank Launches New Social Mobile Application for Golfers of All Levels to Rank and Locate Golf Courses
GolfRank to Serve as a Global Geographic Course Locator Resource and Journal for Golfers
SEPTEMBER 10, 2015, FT. LAUDERDALE – Today, GolfRank, LLC (http://golfrankapp.com/), is thrilled to announce the launch of new mobile application GolfRank for golfers of all ages and levels to give them the ability to quickly rank and locate courses around the world while on-the-go. One of the first socially driven mobile applications released for golf enthusiasts worldwide, GolfRank is free to download and allows users to rank courses in less than 30 seconds and keep a journal of the ones they play with a simple scoring method.
Created by two avid golfers, Matt Adler and Graeme Edwards, GolfRank was designed to give all golfers the ability to rank courses after seeing many courses ranked by "experts" and questioning why they were ranked so high, or what scoring method was used to rank the courses.
"GolfRank is designed to be a simple tool so any individual, regardless of their playing ability, has the ability to rank any golf course they have played," said Matt Adler, Founder of GolfRank. "Our objective is to let golfers of all levels rank courses solely based on their subjective experience, not to see what course is ranked number one. While some golfers don't care about the design and service, others do. We wanted to capture their golf experience at a particular course and then give the golfer the ability to share it with the world on GolfRank."
Similar to other online travel search and review sites, GolfRank was designed exclusively for individual golfers to rate and discover new courses on a mobile application. GolfRank's point scoring method is based off of six questions that apply to any course in any location unlike other golf sites that only provide a star-based rating system or long written reviews by golfers. From the six questions answered by GolfRank users, the app will then generate an overall ranking for the course played and produce a list of the top courses users have played at. GolfRank users do not need to be a golf expert in order to rank courses since the questions apply to the individual user's experience at a course.
"We are excited about the launch of GolfRank and the opportunity it gives golfers to rank their home club and other courses they have played around the world," commented Graeme Edwards, Co-Founder of GolfRank. "With additional interactive features available to create your own virtual golf club for friends and colleagues and share your favorite courses with each other, GolfRank is one of the first socially driven apps now available for golfers."
In addition to ranking user's courses and populating an individual's list of top courses played, GolfRank also allows users to share their courses ranked with others and have access to the global rankings list of all the courses played and ranked by users. Along with this, GolfRank provides users with the option of creating private virtual clubs so they can invite other golfers to GolfRank, share course rankings with those in their club and receive notifications when club members rank a new course.
"While playing many different golf courses over the years, I always wondered, 'who ranked this course and why is this course ranked so high?'," said Adler. "The one thing I did know was that I wanted to be able to rank and make a list of my own courses that I played and share that list with others."
Combined with the social interaction element GolfRank now offers users, it will also serve as a global geographic resource for golfers to locate golf courses in any part of the world and obtain ranking information of courses previously played by users based on gender, age and handicap.
"With the ability to find courses around the world to play that are in your handicap range and ranked by your peers, GolfRank helps golfers find the right course to play no matter where they are in the world," added Edwards.
GolfRank is currently available for download on iPhone and Android. For more information on GolfRank, visit www.golfrankapp.com or follow them on social media at GolfRank on facebook, @golfrankapp on twitter and golfrankapp on Instagram.