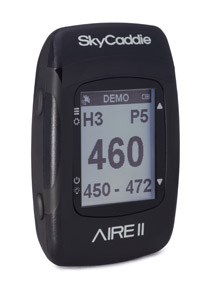 SkyGolf® Launches New SkyCaddie® AIRE II™ No Fees, Preloaded, Ready-to-Play
_______________________________________________________________________________
RIDGELAND, Miss., January 5, 2015… SkyGolf®, maker of SkyCaddie® the most trusted Rangefinder in Golf, today announced the introduction of the new SkyCaddie® AIRE II™. The ultra-light, compact SkyCaddie AIRE II comes loaded with stroke-saving features and is ready-to-play with over 35,000 preloaded courses and no annual fees required.
Using golf's only ground-corrected precision course maps, the SkyCaddie AIRE II provides dynamic, accurate distances to the front, center and back of the green with large, easy-to-read numbers. It also provides TrueGround® fairway targets and layup targets in to the green with no membership required. The AIRE II features intelligent automation which means that it automatically recognizes the course you are playing, advances to the next hole automatically, and provides automatic distance information without having to press any buttons. Other features include a digital scorecard function which stores up to 20 rounds, a shot distance measurement function, fitness functions including odometer, calorie counter and distance tracker, plus watch functions including a pace-of-play timer and stopwatch.
With the AIRE II, golfers have the option to upgrade to a nominally-priced SkyGolf Membership plan to access SkyCaddie's advanced course management features including the proprietary IntelliGreen® Technology which displays the exact shape of the green from your angle of approach, plus adjustable pin targeting that gives precise distances to the hole.
The upgrade also adds SkyCaddie's full TrueGround® Target List for each course with up to 40 points to hazards, bunkers, water, carries and layups per hole. In addition, upgraded members can sync their AIRE II with the SkyGolf 360™ Mobile App that allows golfers to upload scores and stats to SkyGolf's online community for comprehensive post-round analysis.
"The great thing about the AIRE II is its simplicity combined with all the key features you want in a compact, easy-to-use device," said Richard Edmonson, CEO, SkyGolf. "It condenses a quarter million hours of exclusive SkyCaddie course mapping into a truly pocket-sized rechargeable unit that's just easy and fun to use. Switch it on, let it find the course you are playing and go play."
The water-resistant AIRE II can be clipped to a belt or a golf cart or can hang from your golf bag. Its rechargeable lithium battery powers the device for up to 10 hours between charges.
The suggested retail price of the SkyCaddie AIRE II is $199.95. For more information on the SkyCaddie AIRE II, please visit www.skycaddie.com.
About Sky Golf
SkyGolf, maker of SkyCaddie, the #1 Rangefinder in golf, is a private company specializing in the development of innovative positioning systems and technology specifically designed to help golfers play better and have more fun. SkyCaddie is the Official Rangefinder of the PGA of America, PGA of Canada, PGA of Great Britain & Ireland, and PGA of Sweden.
The overall mission of SkyGolf is to help golfers play better with better information while respecting the long-standing traditions of the game. By using technology responsibly and within the spirit and rules of golf, SkyGolf provides golfers of all skill levels with better and more rewarding golf experiences. The Company's innovative products include: SkyCaddie®, rangefinders that are preloaded and ready-to-play out of the box; SkyPro®, golf's most powerful swing/putting analyzer and training tool; ClubSG, golf's fastest growing community where golfers can go to connect to their Game, their Courses, their Equipment, their Golf Professional and to one another; Swing Labs®, the golf industry's first unbiased, performance-based fitting solution; and SkyCourse™ Technologies, a company that equips golf course superintendents with tools they need to complete daily property management tasks with less effort, less time and less money, through a unique combination of precision GPS maps, web-based technologies and mobile mapping solutions. For more information, visit: www.skygolf.com, www.skycaddie.com, www.golfskypro.com, www.swinglabs.com, and www.skycourse.com.