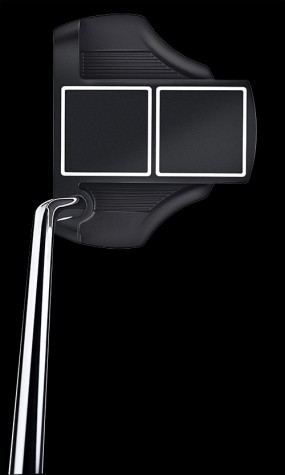 HUNTINGTON BEACH, CA – October 7, 2013 – Cleveland® Golf has always prided itself on leading the way in short game innovation with wedge designs and technologies that help players of all abilities hit the ball closer to the hole. Cleveland® Golf is now pleased to introduce the new Smart Square™ putter, which will enhance golfers' ability to find the bottom of the cup.
Following intensive research into the most successful putters of all time and what golfers focus on when they align a putt, the new Smart Square™ incorporates alignment technology that has proven to be the most advanced – and simplest – that Cleveland® Golf has ever created.
The key to the Smart Square™ is Dual Axis Alignment™. Two squares create parallel lines that frame the ball at address and provide a clear visual path to the hole. They also generate two perpendicular lines that easily highlight when the putter is misaligned – even by a fraction of a degree. Cleveland® Golf's testing shows players aligned the Smart Square™ 23% more accurately than one of the most popular putters of all time.
The Smart Square™ promotes consistent roll with a copolymer face insert, which also enhances feel and sound at impact. Its high MOI design also minimizes distance loss on off-center hits.
The Smart Square™ is available in three different options to suit a variety of stroke preferences. There are heel- and center-shafted versions available in standard lengths. There's also a 39-inch Almost Belly, with a heavier putter head (40 grams more than standard) and grip (2.5 times heavier than standard) to create counter-balanced weighting that adds stroke stability and consistency without anchoring.
Smart Square™ putters launch on November 15, 2013, and are available for pre-booking beginning October 15, 2013. MAP (Minimum Advertised Price) is $139.99 for standard lengths and $179.99 for the Almost Belly. Visit www.smartsquareputter.com for more information.
For more information on Cleveland® Golf, Srixon®, and Never Compromise® or their staff players, please visit www.clevelandgolf.com, www.srixon.com, and www.nevercompromise.com.