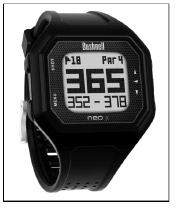 BUSHNELL GOLF ADDS NEO-X GOLF GPS RANGEFINDER WATCH TO FAMILY OF INNOVATIVE PRODUCTS
Newest GPS Watch Gives Golfers the Longest  Time of Play Between Charges of Any Golf GPS
Overland Park, KS, April 1, 2013 – Bushnell Outdoor Products, #1 in Electronic Measuring Devices for Golf, introduces the next generation of distance made simple golf products with the neo-X Golf GPS Watch. The neo-X Golf GPS Watch caters to the ever-increasing demand for wrist-mounted devices, provides golfers with additional perks as it comes preloaded with over 30,000 worldwide courses, features an extended battery life (two times longer than competitors) and can be used as an odometer on the course or while exercising off the course. The NEO-X is an easy-to-use GPS rangefinder, with instant measurements for golfers in a simple, lightweight form-factor.
"We pride ourselves on creating technologies and products that makes Bushnell the brand of choice for over 90% of PGA, LPGA and Champions Tour Pros, but also understand that customers also want those exclusive technologies available in an easy-to-use form on their wrist," said Terry Mears, Product Director at Bushnell. "With the popularity of the NEO+ Watch, we created the next generation, NEO-X, with more advancements that will continue to give golfers the ability to enhance their game at an affordable cost."
The neo-X Golf GPS Watch is the latest product to join the Bushnell family of devices offering Distance Made Simple. Bushnell's lightest and thinnest golf watch is simple to operate and comfortable to wear, giving golfer's accurate front/back/center, hazard and shot distance measurements on over 30,000 preloaded courses with no membership fees.
While the NEO+ offered golfers more battery life than any other GPS watch available, the new NEO-X delivers even more benefits with one button press such as Shot Distance, Hazards and Round Odometer, while providing over three rounds (up to 16 hours) of battery life. Additionally, when the product is functioning solely in watch mode, the battery can last 24 months without needing a recharge.
The neo-X Golf GPS Watch is capable of instantly recognizing courses and has an auto hole advance feature which automatically changes from one hole to the next, meaning the user does not have to push another button for the entire round. And while the golfer is out on the course, the odometer feature allows you to track distance, speed, and total activity time.
Play Longer:
16 hours of golf before needing a charge
Ready for Play:
Over 30,000 courses preloaded for instant use
Smart Round Features:
Instant course recognition and auto hole advance
Hazard distances for nearly every hold
Shot distance calculator
Round time and distance info
Tee Time Auto-On & Battery-saving Auto-Off
Perfect watch for everyday use
Odometer, Timer, Stopwatch, Alarm
The NEO-X Golf GPS Watch will be available at Bushnell retailers nationwide beginning May 1, with a retail price of $199.95.
Bushnell, the #1 choice of professional golfers, offers a full range of rangefinders, which continue to change and improve the way golfers assess distances, ultimately improving performance.
For more information on the Bushnell family of rangefinders, visit the company's website at www.bushnellgolf.com. To obtain images of the NEO-X, please go to www.bushnellgolfpr.com.