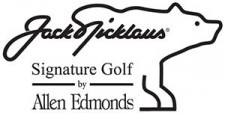 Two American Icons Collaborate on Shoes and Gear
PORT WASHINGTON, Wis. (April 3, 2013) /PRNewswire/ — Golf legend Jack Nicklaus and the Allen Edmonds Shoe Corporation have collaborated to introduce the new Jack Nicklaus Signature Golf Line by Allen Edmonds, a comprehensive line of golf shoes and golf-related products respecting the traditions of the game and providing innovations for improved comfort and performance.
The new Jack Nicklaus Signature Golf Line will include three series of golf shoes, all named after some of the most renowned Nicklaus-designed courses. The Line also includes a number of accessories, such as socks, belts, hats, a glove, cedar shoetrees, and coasters.
"Allen Edmonds and Jack Nicklaus are two American icons who share the values of customer service, superior quality and classic tradition," said Paul Grangaard, CEO and president of Allen Edmonds. "As we collaborated on the Nicklaus Signature Golf Line, we embraced our mutual values of respect for the game of golf, authenticity, and American heritage."
Jack Nicklaus' Vision For New Line
"I was very involved with Allen Edmonds in the design, performance aspects, and look of this new Signature Line of golf shoes," Jack Nicklaus said. "Initially, I shared my vision of a golf shoe designed for stability from the ground up and for the modern golf swing. While I appreciate the athleticism of golf, I wanted a line that included both a current, comfortable athletic shoe, as well as a more classic design for this Signature shoe, combining performance, comfort and stability."
In addition to style features, the new golf shoes have been designed with innovative comfort and performance benefits, including a patent-pending Stability Rim sole, which provides a swing platform for greater traction and footwork stability. The sole is also spikeless—making it green friendly—and versatile enough to wear on and off the course. The entire line features full leather uppers, certified waterproof construction, and removable insoles for those who desire custom orthotics.
"I'm pretty tough when it comes to perfecting a design, so we went through a comprehensive design and development process," Nicklaus said. "In our first offering, we believe we have created core shoes that appeal to golfers of all skill levels and tastes in style. Allen Edmonds built a company and a brand-based commitment to design features that improve performance and comfort. This is a great fit for the high demands that come with a golf shoe."
Nicklaus has played in well over 700 professional tournaments, and in amassing his record 18 professional major championship titles, has walked over 11,000 holes in major championship play. So, he admits that such wear-and-tear on the feet, as well as decades of swinging into his left side, led to foot issues that many other golfers might take into account when choosing footwear.
The Golden Bear's Experience Inspired Line
"Mr. Nicklaus' personal experience playing golf, walking and designing courses, and his challenges with proper fit inspired us while designing and crafting this new line," Grangaard said. "We were fortunate to have him so involved in this process, one that spanned meetings with him in Florida, Muirfield Village in Ohio, and at our factory in Port Washington, Wisconsin."
The new Line features two distinct and complementary logos that reflect the spirit of Jack Nicklaus.
One is a simple icon silhouette of Jack Nicklaus taken from the "Yes Sir!" reaction to his birdie putt on the 17th hole of his historic final round in the 1986 Masters—the last of his record six Green Jackets. The other logo incorporates the Jack Nicklaus Golden Bear logo with Jack Nicklaus' brand signature and an embedded Allen Edmonds brand logo.
The Jack Nicklaus Signature Golf Line shoes will retail for $195 and are now available at golf specialty retailers, green-grass accounts, Allen Edmonds stores, and at allenedmonds.com. Shoes will be made to order and delivered in six to eight weeks.
All of the Signature Line styles come with multiple lace colors, and as with all Allen Edmonds shoes, are available in a full range of lengths and widths to meet all golfers' sizing needs.
About The Nicklaus Companies
For more than 40 years, the mission of the Nicklaus Companies has been to enhance the golf experience, and to bring to the national and international consumer, golf-related businesses and services that mirror the high standards established in the career and life of Jack Nicklaus. These services include golf-course design, the development of golf and real estate communities, and the marketing and licensing of golf products and services. Nicklaus Design, recognized as the world leader in golf course design, has been involved with over 375 courses open for play in 36 countries and 39 states.
About Allen Edmonds
Founded in 1922, Allen Edmonds Shoe Corporation is a privately held US-based manufacturer of premium men's footwear and accessories. The largest shoe cobbler in the world, Allen Edmonds is taking shoemaking to the level of an art form. The company's products are available at upscale stores worldwide, including 43 Allen Edmonds stores across the U.S., and online at www.allenedmonds.com