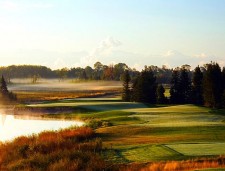 Island Resort & Casino Launces New Website, Opens 5 Bridges Restaurant
(HARRIS, MICHIGAN) – Sweetgrass Golf Club, situated in Michigan's Upper Peninsula, recently ranked among the top courses in Michigan on GOLF Magazine's biennial "Best Public Courses State-by-State" list.
Sweetgrass, located at the Island Resort & Casino, ranked in the top 20 among over 1,000 courses in Michigan.  The complete listing is now available in the September issue of GOLF Magazine.
"We are honored to once again be named to this prestigious list which showcases Sweetgrass as a top destination for golf in the state," says Tom McChesney, CEO of Island Resort & Casino, which operates the course.  "We are constantly working to improve the guest experience both on the course and at the resort."
As golfers look for fall golf deals in the Midwest, they can play Sweetgrass and stay the Island Resort & Casino starting at $95.  The Perfect 4-Some package allows golfers to enjoy award-winning golf at Sweetgrass along with TimberStone and Greywalls courses, which were also named to the "Best in Michigan" list.  Prices start at $265 and include 18 holes at each of the three courses with cart, as well as two-night's accommodations.  Discounts for local golfers are also available.
New 19th Hole Added to Island Resort & Casino.
The new 5 Bridges Pub & Restaurant has opened at Sweetgrass Golf Club's home property at the Island Resort & Casino, giving golfers a new casual outlet to share Michigan craft beers and other beverages, as well as hearty fare.
Named for the five historic bridges located throughout Sweetgrass Golf Club, 5 Bridges offers a pub-like atmosphere with a menu highlighted by premium burgers, fresh cut steaks and seafood.  Nightly features include Island Ale-battered local Walleye and Perch.
The restaurant is located directly off of the 24/7 gaming floor and is within close proximity of the resort's live music venues. Recently renovated guest rooms at the Palm Tower and the Sweetgrass Golf Shop are also only steps away.  It is one of four dining and beverage outlets at the Island Resort & Casino.
The restaurant is the newest addition to the resort, which added a new conference center, VIP room and outdoor patio last year, and added more guest rooms during the summer months.
Resort Releases New Website
The Island Resort & Casino also recently launched a new website at http://www.islandresortandcasino.com, making it easier for golfers to see its live entertainment lineup, receive information on the casino, view guest rooms and book online. The site features new photography and expanded descriptions of resort features.
It also includes direct links to golf course information, golf packages, scorecards and yardage guides found at the complementary www.sweetgrassgolfclub.com.
For more information, call 877-ISL-GREEN.