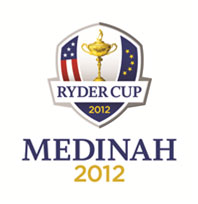 Bill Murray, Justin Timberlake, Michael Phelps And George Lopez Among Participants In 2012 Ryder Cup Captains & Celebrity Scramble Golf Event At Medinah Country Club
Celebrities And Sports Legends Will Be Paired With Past Ryder Cup Captains
MEDINAH, Ill. – The PGA of America is pleased to announce that Bill Murray, Justin Timberlake, Michael Phelps and George Lopez are currently scheduled to appear with Chicago sports legends Ernie Banks, Richard Dent, Stan Mikita and Scottie Pippen as participants in the first-ever 2012 Ryder Cup Captains & Celebrity Scramble golf event on Sept. 25 at Medinah (Ill.) Country Club, host venue of the 39th Ryder Cup.
The celebrities and sports stars will be paired with past Ryder Cup Captains to play 10 holes of Medinah's Course No. 3 as part of a team in a scramble format. Participating past Ryder Cup Captains include Ben Crenshaw, Tom Kite, Tom Lehman, Corey Pavin, Dave Stockton, Hal Sutton, Lee Trevino and Lanny Wadkins.
"The 2012 Ryder Cup Captains & Celebrity Scramble will be a lot of fun to watch and is another great activity that Ryder Cup fans who are attending Tuesday's practice round can enjoy," said 2012 Ryder Cup Director Michael Belot. "Our participating celebrities and past Ryder Cup Captains are excited to bring their best golf games to Medinah."
How To Watch
The Ryder Cup Captains & Celebrity Scramble golf event will begin at 1 p.m. local time on Tuesday, Sept. 25, which is the first day of Ryder Cup practice rounds for the U.S. and European Ryder Cup teams at Medinah. Fans with tickets for Tuesday's sold-out practice round will be able to watch the scramble.
Additionally, juniors age 17 and under will be admitted free of charge to the grounds on all practice round days – Tuesday, Wednesday and Thursday – during Ryder Cup week if accompanied by a ticket-bearing adult. A maximum of two (2) junior tickets may be obtained per Ryder Cup ticketed adult on these days at the Admission Sales/Will Call Office. Junior tickets are available on these days regardless of a sell-out.
For more information about the 2012 Ryder Cup, visit www.RyderCup.com.