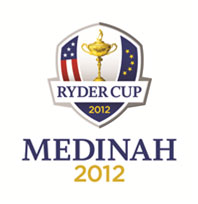 MEDINAH, Ill. – The PGA of America is pleased to announce that platinum recording artist Jordin Sparks, star of the new  Sony Pictures film "Sparkle", the youngest winner in "American Idol" history and a past Grammy-Award® nominee, will perform the U.S. National Anthem at the 2012 Ryder Cup Opening Ceremonies on Sept. 27 at Medinah (Ill.) Country Club.
"I'm so honored to have the opportunity to sing our national anthem at the 2012 Ryder Cup Opening Ceremonies at Medinah," said Sparks, 22. "The Ryder Cup is one of the most patriotic events in all of sports, and it means a lot to me to represent the United States on such an important stage. I can't wait to experience such an incredible atmosphere with passionate golf fans from around the world."
The Ryder Cup Opening Ceremonies will also include appearances by U.S. Ryder Cup Captain Davis Love III and European Ryder Cup Captain José María Olazábal; 2012 U.S and European Ryder Cup players; Justin Timberlake, the first-ever Ambassador for the U.S. Ryder Cup team; past Ryder Cup Captains and additional special guests.
"We're very excited that Jordin Sparks will be performing the U.S. National Anthem at the Ryder Cup Opening Ceremonies," said 2012 Ryder Cup Director Michael Belot. "She's a great young talent with fans of all ages, and we know our Ryder Cup fans will enjoy her performance."
For more information about the 2012 Ryder Cup, visit www.RyderCup.com.