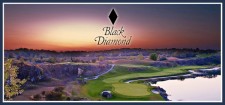 Multi-Million Dollar Enhancements to Clubhouse, Golf Courses, Amenities and Real Estate
(LECANTO, Fla.) – Escalante Golf, owner / operator of Black Diamond, has unveiled a multi-million dollar masterplan for the iconic golf community and home of Tom Fazio's famed Quarry Course 75 miles north of Tampa.
In concert with Black Diamond's 25th anniversary, the masterplan features a major clubhouse redesign; numerous golf course enhancements including bunker renovations, course lengthening and amenity upgrades; and new residential products and memberships.
"Our goal is to build on Black Diamond's world-class reputation to ensure the club's long-term sustainability and exclusivity," says David McDonald, president of Escalante Golf. "The comprehensive masterplan demonstrates a continuing commitment to our existing members, and is a point of pride and emphasis in attracting new members and residents who share our vision and values."
Phase one begins this month with extensive clubhouse renovations. The new interior design was crafted by nationally recognized, Club Design Associates and features upgrades to the dining facilities, boardrooms, outdoor patios, flooring, furniture and mechanical systems. The second phase will focus on the golf shop, retail environment and locker rooms.
To further elevate the pure golf experience, award-winning golf course architect David Whelchel will work closely with Escalante and Black Diamond to identify opportunities to lengthen and modernize the golf courses. The course improvements begin with the redesign and reconstruction of all 208 bunkers throughout the courses and practice facilities using the state-of-the-art Better Billy Bunker Method.
Additionally this quarter, Black Diamond Real Estate will begin construction of its first "show" home, The Augusta, overlooking the fourth hole on the Highlands Course. Architecturally appealing and energy efficient, it marks a new era of home building inside the gates.
A boutique owner/operator based in Fort Worth, Texas, Escalante purchased Black Diamond from original owner Stan Olsen in March 2011. It immediately charted a course to breath energy and vitality back into the exclusive Citrus County golf club. This effort began with re-establishing the Quarry Course as one of the premier golf experiences in the U.S.
For more information: www.blackdiamondranch.com, (800) 328-8099.