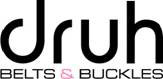 February 2012: To celebrate the launch of its new Facebook page, Druh Belts & Buckles  is giving away eight Druh Belts that have been exclusively signed by Druh brand ambassador and golfing superstar, Lee Westwood.
For a chance to win one of these coveted prizes, all Druh fans need to do is 'Like' the new Druh page and enter the Golden Golf Ball competition. Any of the lucky ones who sink the Golden Golf Ball will be a winner. Those who don't win on their first attempt can have another just by sharing the competition with their friends, and come back for another shot.
Everyone who joins the world of Druh on Facebook will gain access to special offers only open to Druh fans, competitions to win items from the ever-expanding Druh range and will be able to read exclusive insider blogs from all the major golf tournaments in Europe as well as a number of events on the international stage.
As the 'Number One Belt on Tour', Druh is a regular presence at most European Tour events and has unrivalled access to what goes behind the scenes at tournaments as well as one-to-one contact with many of the top players. This means that Druh followers on Facebook will be able to see a side of the European Tour that they won't see anywhere else!
For all this, Druh fans should head straight to https://www.facebook.com/druhbeltsandbuckles, click 'Like', try their luck in the Golden Golf Ball competition and enter the world of Druh on Facebook.