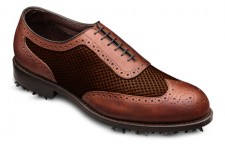 New Allen Edmonds Golf Shoe Helps Golfers Beat The 2011 Heat Wave
Double Eagle's Mesh Construction, Leather Soles Give Breathability, Stability and Comfort
Temperatures are soaring to sweltering levels across America this summer, and the heat wave is predicted to continue and reach highs not seen in 15 years.
Many golfers are still hitting the course as summer is the season for country club member-guest tournaments, club championships and local city competitions. Of course, you can't keep golf fanatics, living anywhere in the United States, from getting their recreational rounds in before weather and other commitments take up their time. In fact, the National Golf Foundation reports that nearly 40% of rounds in the US are played in the summer months, approximately 190 million.
When you play golf in such broiling conditions, it's smart and healthy to take all the normal precautions (hydration, breaks, sunscreen and light, cool apparel, as the Red Cross suggests). You also can beat the heat by wearing a shoe crafted to beat the heat and for superior comfort while walking from tee to green. You can combine that with a construction that keeps you stable during your swing in all weather conditions.
The new Allen Edmonds Double Eagle golf shoe might just be the solution. It has a sturdy, breathable wrap-around mesh upper and features the stability of a 360º Goodyear welted construction.
"In fact, we are seeing our sales of the Double Eagle picking up in the last two weeks of sweltering weather across the US," says Colin Hall, Chief Marketing Officer for Allen Edmonds. "We attribute that to the superior breathability of Double Eagle's mesh construction and leather sole when compared to typical rubber golf shoes.
"This breathability and the comfort of our cork lining becomes an advantage for a golfer who can walk about five miles over four hours while playing in this scorching heat," says Hall. "Additionally, the Double Eagle features a classic style, so you can look and stay 'cool' on the links."
The Double Eagle, available in Black Outland / Grey Mesh and Brown Outland / Brown Mesh is available at finer pro shops, all 34 Allen Edmonds retail stores across the United States and online at allenedmonds.com at a price of $345. The Double Eagle is one of the five new styles of the Allen Edmonds Honors Collection gol f shoes introduced this season.
The shoes are handcrafted in the USA in 212 steps, using Goodyear 360-degree welted construction for greater stability while maintaining flexibility. They feature the finest premium leathers and heated cork between the insole and outsole for custom-like orthotic comfort as only Allen Edmonds can do.