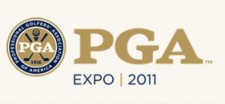 Two-Day Schedule Includes Instruction, Clubfitting, Fashion, Merchandising & Player Development
PALM BEACH GARDENS, Fla. – Renowned golf instructor Butch Harmon, veteran NBC-Golf Channel broadcaster Mark Rolfing, who has been a PGA Professional since 1979, and TNT broadcaster Jim Huber bolster a strong main stage schedule of presentations at the 2011 PGA Expo, August 23-24, at The Venetian Casino Hotel Resort in Las Vegas.   While Harmon will share his teaching style that has proven successful at all levels of the game, both Rolfing and Huber will engage golf industry professionals with their unique insights covering golf for a worldwide television audience over the past twenty years.  Clubfitting, merchandising, growth of the game best practices and fashion trends complete a busy two-day schedule of presentations.
"Everyone can benefit by the presentations and inspiring golf stories shared by Butch Harmon, Mark Rolfing and Jim Huber," says PGA Golf Exhibitions Industry Vice President John McGeary. "We're excited to welcome them all to the 2011 PGA Expo.  The main stage schedule nicely complements the exhibits, demonstrations, education, fashion programs and networking opportunities that our attendees value at the PGA Expo."
PGA Expo Main Stage Schedule of Presentations
Butch Harmon – Coaching the World's Best Players
(9:30 – 10:30 a.m., Tuesday, Aug. 23)
Renowned golf instructor Butch Harmon will share his unique style of teaching that has proven successful at all levels of the game including with PGA TOUR players such as Tiger Woods, Phil Mickelson, Adam Scott and many others.
Southwest PGA Section – Best Practices in Growing the Game in Southern Nevada (10:45 – 11:45 a.m., Tuesday, Aug. 23)
A collaborative regional industry effort is successfully growing participation in the game in Southern Nevada.  Panelists will share best practices from participating organizations including: The Las Vegas Golf Hall of Fame; Southern Nevada Chapter of the Southwest PGA Section; Southern Nevada Golf Association; Women's Southern Nevada Golf Association; First Tee of Southern Nevada; University of Nevada, Las Vegas, PGA Golf Management Program; Nevada Golf Industry Alliance; Executive Women's Golf Association, Las Vegas Chapter.
Forward Spin with Annmarie Dodd & The Association of Golf Merchandisers
(12:00 – 1:00 p.m., Tuesday, Aug. 23)
AGM leaders and Dodd, a golf fashion reporter, will dissect the industry's latest trends with a panel of forward-thinking golf apparel executives. Topics include: the latest in golf wear technology; interpreting spring 2012 trend forecasts; new names in the game; and the connection between what's worn by professional tour players and the everyday golfer.
Clubfitting Means Business – PING
(1:15 – 2:00 p.m., Tuesday, Aug. 23)
PING executives will share the latest in PING clubfitting technology and how it is impacting measurable performance gains in golf retail, building a loyal customer base; and developing and sustaining career growth.
Mark Rolfing -Turning the Table on 20 Years of Interviewing Golf's Top Players
(2:15 – 3:00 p.m., Tuesday, Aug. 23)
As a well-known television professional with more than 20 years of experience as a reporter, commentator and host for such networks as NBC/Golf Channel, ESPN, ABC and CNBC, Rolfing will have the tables turned as he is interviewed about his career covering many of golf's biggest stars.
Golf Course Ownership Perspective- Adding Value & Building Business
(9:30 – 10:30 a.m., Wednesday, Aug. 24)
Industry leaders provide a panel discussion to explore ownership mentality, addressing issues including generating repeat business, legal considerations of growth through acquisition, and purchasing a golf course. Panelists are members of Women in the Golf Industry and include:  Joyce Friel, president of Peak Performance Consulting; Carissa Taute, director of marketing for In Celebration of Golf; Kathlene Bissell, vice president of golf course sales for Coldwell Banker Commercial; and Danelle G. Kelling, Esq., attorney for Stinson Morrison Hecker LLP.
"Know Your Customer" – PGA Merchandisers of the Year Best Practices, presented by PGA Magazine
(10:45 – 11:45 a.m., Wednesday, Aug. 24)
A "Know Your Customer" panel presentation by PGA Professionals presenting strategies to: maximize the sale of merchandise to existing and new customers; increase the velocity of sell-through; and enhance consumer satisfaction leading to greater sales and revenues.
PGA Sports Academy- Developing Lifetime Players
(12:00 – 1:00 p.m., Wednesday, Aug. 24)
The PGA Sports Academy program will present key strategies for developing junior golfers into long-term core golfers who have continuing opportunities to play socially or competitively.  PGA Sports Academy is based on a collaborative framework by PGA Professionals, PGA Education, allied associations and the PGA World Alliance.
Jim Huber – "Four Days In July" & Twenty Years in Golf Journalism?
(1:15 – 2:00 p.m., Wednesday, Aug. 24)
Huber will discuss his highly acclaimed book "Four Days in July" that chronicles Tom Watson's extraordinary performance and near-victory in the 2009 Open Championship at Turnberry in Scotland.  Huber, who spent the first 10 years of his career in print journalism, has won the Edward R. Murrow Award for his sports writing and four Emmys for his sports reporting on Turner Sports and CNN.
In addition to the daily main stage presentations, daily seminars within the annual education conference will offer the latest merchandising programs, key instruction techniques and golf management strategies in nearby classrooms.  All main stage presentations and education conference seminars offer PGA members MSR credits for each hour attended.
PGA Professionals can earn nearly 20 MSR credits through participation in education seminars, main stage programs,  PGA Town Hall, Demo Night and PGA Expo events.  MSR credit opportunities are detailed and the full conference schedule is updated regularly at www.pgaexpo.com.