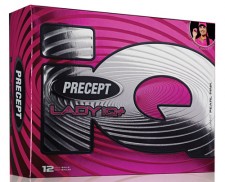 Precept's Softest Ladies' Ball Ever Offers Improved Distance and Feel in 3 Fashionable Colors
Covington, GA – Bridgestone Golf announces the launch of the Precept Lady iQ+, the newest ball in the best-selling line ofPrecept Lady products. Set to hit golf specialty stores and retailers in August 2011, the new Lady iQ+ is Precept's softest ladies' ball ever. The ball's larger core offers improved distance while its softer cover enhances greenside feel and spin. Available in 3 popular color choices with a sparkling pearl finish, the Lady iQ+ continues to deliver the fashionable performance that is a hallmark of the Precept Lady franchise.
"Bridgestone has fit thousands of women golfers over the past 4 years through our Ball Fitting Challenge," said Bridgestone Golf's Director of Marketing – Brandon Sowell. "Based on the fitting data wecollected, we found that the vast majority of female players were playing aball that was too firm."
As a result, Bridgestone produced its softest Precept ball ever. A new larger core in the Lady iQ+ provides increased distance for female players with moderate swing speeds and reduced sidespin for a straighter, more accurate ball-flight. The soft core also utilizes Bridgestone's patented Gradational Compression Technology to increase distance by allowing for greater ball deformation at impact.
"In the new Lady iQ+ we made our flagship women's product even softer while increasing the size of the core giving the engine of the golf ball more power than ever before," said Sowell. "The yardage gains female players will see should allow them to score better and ultimately make the game more enjoyable."
In addition to increased distance from the core, the Lady iQ+ new cover is 4% softer than previous models enhancing feel and increasing greenside spin. The cover also features Bridgestone's popular 330-dimple design with Seamless Cover Technology™ – providing a consistently higher trajectory and more carry than current models.
According to Sowell, "while we focused on ball performance from the core and cover, we know female golfers have come to expect fashionable performance from the Precept line. Continuing that tradition, the pearlescent finish and the 3 color choices are fashionable compliments to the new ball's top-notch performance."
Offered in White, Pearl Clear and Pearl Pink, female golfers will have the flexibility to choose a Lady iQ+ color that fits their eye and suits their style. Sales of current Precept pink balls nearly eclipsed sales of the brand's white balls this year for the first time in company history. Perhaps the most iconic user of the pink ball is Bridgestone ambassador Paula Creamer, whose championship performance on the LPGA TOUR has increased the popularity of the pink ball.
Lady iQ+ balls will be available August 2011 at golf specialty stores and select retailers nationwide. The balls feature a street price of $19.99 per dozen (MSRP- $29.99 per dozen). For more information on the Lady iQ+ visit www.preceptgolf.com.