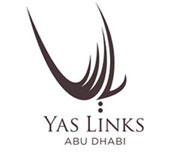 Arabian links venue cements position as 'best golf course in the Middle East'
(Yas Island, UAE – 17 June, 2011) Yas Links Abu Dhabi, the UAE's newest golf course, has been crowned Best Sporting Club in Abu Dhabi at the 2011 Best in Abu Dhabi Awards, hosted by Ahlan!, the region's biggest-selling celebrity weekly magazine in Dubai and the Gulf Co-operation Council.
The celebrated Kyle Phillips-designed venue saw off a number of high-profile contenders, including Abu Dhabi Golf Club, the current host of the European Tour Abu Dhabi Championship.
The prestigious Ahlan! Best in Abu Dhabi awards is held annually to celebrate the city's plethora of world-renowned organisations and establishments, including sporting facilities, hotels, malls and restaurants. It consisted of 24 categories all of which were decided by public vote, with the gala awards ceremony held at the lavish Allure nightclub on Yas Island.
After accepting the accolade on behalf of Yas Links, Chris White, General Manager of developer Aldar Properties (Golf Division), said: "A year on since its opening, this latest accolade confirms Yas Links' position as the 'best golf course in the Middle East'. We are extremely pleased to receive this coveted recognition, especially given that the winners are selected by Abu Dhabi's local residents who live here and possess an in-depth local knowledge of the city's sporting facilities.
"I would like to dedicate the Ahlan! award to the whole team at Yas Links who have demonstrated an unstinting commitment to ensuring that members and guests always enjoy a memorable experience at this exceptional Aldar facility."
Yas Links is an Aldar-owned and managed complex that boasts a 7,450-yard, par-72 championship course located on the west shore of Yas Island, which features a unique, custom-made coastline. The course is ideally complemented by a Par 3 floodlit Academy Course offering world-class amenities, including six shaded driving bays and two indoor swing studios as well as member and guest practice grounds. Its acclaimed floodlit driving range, and short-game chipping and bunker practice areas allow golfers to hone their skills both day and night.