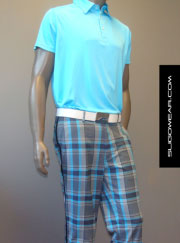 SLIGO WEAR DEBUTS NEW FALL 2011 COLLECTION HIGHLIGHTED BY BOLD COLOR SCHEMES AND FIRST-EVER FULL LINE
Sligo's Fall Collection Outfits Fashion-Forward Golfers From Head-to-Toe
MISSISSAUGA, ONT — Sligo Wear, the Canada-based manufacturer and marketer of men's trend-setting golf apparel, is set to unveil its highly anticipated Fall 2011 collection – with dazzling color schemes and cutting-edge materials, as well as an expanded line of apparel and accessories. The Sligo 2011 Fall Collection features bold combinations of new outfit designs and bright color choices that allow fashion-forward golfers to standout from their friends both on and off the course, from head to toe.  In addition to the eye-popping tops and bottoms for which they have become known, the Fall 2011 collection also marks Sligo's official foray into several new product categories, including waterproof outerwear, socks, cool weather headwear, performance undergarments, and golf bags.
The Sligo Wear Fall 2011 collection presents the trend-setting male golfer with more combinations of outfits than ever before, focusing on Sligo's distinctive-patterned shirts and the brand's hallmark shorts and pants. The shirts introduce 6 new designs and a sleek update of 8 Sligo fan favorites.  The new Bayview (pictured), Brighton, Tommy and Vibe shirt styles each feature Sligo's dye sublimation process, delivering the company's most fresh and eye-catching designs yet. Each top is crafted from technical polyester and offers the ultimate in moisture-wicking performance and anti-microbial fortification featuring SILVERCLEAR – a highly efficient antimicrobial, bactericidal and anti-odor liquid solution for thetreatment of various types of materials. Based on its revolutionary "Silver Technology," SILVERCLEAR® is colorless, economical, ecological, easy to apply, and does not compromise the feel of the material in any way.  Sligo's new 4-way mechanical stretch fabric offers golfers maximum playability during the round and ensures cool comfort afterwards.  For Fall 2011, Sligo's line showcases 7 signature colors – City Blue (brilliant cobalt blue), Electric Blue (deep sky blue), Metal (light grey), Miami Pink (hot pink), Mint (soothing cool green), Sligo Green (bright neon green with yellow tints) and Storm (vibrant deep purple).  These fashion-forward colors are complemented by Sligo's Black, White and Smoke offerings for a range unmatched in the golf industry. Sligo's Fall 2011 shirts range in price from $55 – $70.
In addition to Sligo's performance golf shirts, the Fall 2011 collection also features newoptions in coordinating pants and shorts that golfers can't find anywhere else.  It's been said that no one does plaid like Sligo, and the Fall 2011 assortment is further affirmation of that statement.  Utilizing the same bold colors found in the tops, Sligo has created 3 new plaids – City Plaid, Mint Plaid and Storm Plaid (pictured).  Sligo's proprietary digitile patterned shorts and pants also make a return in the Fall collection with 3 new color options – Metal Digitile, Miami Digitile and Smoke Digitile.  Digitile is a Sligo design inspired by Moroccan tile dating back to the 14th century.  The Digitile art form flourished during the Hispano-Mouresqe era and is still very popular in Spanish and Portuguese architecture.  For golfers who opt for the solid but bold look in their shorts and pants, Sligo offers 6 new color options—City Blue, Electric Blue, Metal, Miami, Mint and Sligo Green— designed for pairing with their tops.   All of Sligo's flat front straight cut pants and shorts feature form-fitted construction and a proprietary blend of 96% polyester and 4% lycra.
"Our new Fall 2011 line already has surpassed last year's Fall sell-in with retailers, so our fans throughout North America will have more choices than ever before," said Shawn Aucoin, Director of Sales – Sligo Wear Inc.  "The reception we received from buyers at this past year's PGA Show was just amazing, and we're confident that golfers at courses throughout the world will embrace the unique and unmistakable style of Sligo Wear.  We always have believed that male golfers have an appetite for new, different and fun apparel, and at Sligo that's our focus and commitment."
Sligo's Distinctive Look Featured in Expanded Sweater Line
The Fall 2011 collection will feature Sligo's best ever offering of sweaters and other knit products, as well.  As cooler weather approaches and golfers try to squeeze in their last few rounds of the year, Sligo introduces 6 new sweaters that will keep golfers warm and stylish.  The new Sligo 1Ž4 Zip and Sligo Full-Zip Sweaters are made of 100% cotton and offer a convenient 1Ž4 zip or Full-Zip front closure system.  Available in colors including Black, City Blue, Metal, Smoke and White the Sligo zip sweater options provide comfort in a classic, yet modern style.  The Sligo Striped Sweater, Sligo Vibe Sweater, Sligo O'Brien Sweater and O'Brien Sweater Vest are crafted from 100% cotton and feature a form-fitting, yet flexible V-neck design with prices in the range of $75-$85.
For the first time ever, Sligo Wear will also expand its selection of coordinating accessories, offering loyal fans of the brand a full line of performance outerwear, high-tech socks, performance undergarments and headwear to complement their fall look.  Stay tuned for more information on these exciting new introductions.
The 2011 Sligo Wear Fall Collection will be available at select golf specialty stores, premium on-course retailers and through the Sligo Wear online store beginning in August 2011.  To view the entire 2011 Fall Collection of shirts, pants, shorts, outerwear, headwear and accessories visit www.sligowear.com.
Note to Editor:  High-Res images of the entire Sligo Wear 2011 Fall Collection are available upon request.
About Sligo Wear Inc.
Based in Mississauga, Ontario, Sligo Wear was founded by a group of friends and active golfers each of who were frustrated by a lack of fashionable and proper-fitting, affordable golf apparel in the marketplace.  At a Pro-Am in the Azores in early 2004, they discovered a different fashion for golf apparel and upon their return started Sligo Wear Inc.  For more information on the company and its entire tour staff visit www.sligowear.co