Celebrated Washington D.C. Area Layout Now Part of Premium Course Library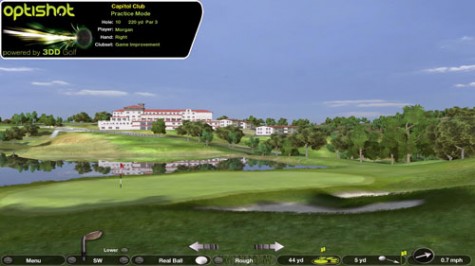 (TRAVERSE CITY, MI) — Dancin' Dogg Golf — maker of the OptiShot Infrared Simulator, the ultimate in-home virtual golf system — has added Capitol Club, a true-to-life replication of one of the most prestigious major championship venues, to its premium course portfolio.
Spanning nearly 7,600 yards from the back tees, Capitol Club includes the distinct features of the par-71 jewel battled by PGA Tour stars. Like the company's other premium layouts — including Monterey Classic, Old Scot, Ponte Vedra and Whispering Dunes — Capitol Club can be downloaded at www.dancindogg.com for a one-time fee of $49.95.
"Our replications have been widely celebrated because OptiShot is a fully immersive, virtual golfing experience on courses most golfers aren't able to play in person," says Brandon Theophilus, CEO of Dancin' Dogg Golf. "Capitol Club's layout has long been tested by the world's top players and now all golfers may take aim to see how they manage the challenging track."
OptiShot (MSRP: $399.95) connects with Windows computers via a plug-and-play interface and requires only 8-½ feet of swing space. With their own clubs, up to four players per round can compete by hitting real balls, foam balls (provided) or no ball at all. Infrared sensors on a durable swing pad precisely record club-head speed, face angle, swing path, distance, tempo, face contact and ball flight.
Early this year, OptiShot was honored with the ScoreGolf "Research & Development" award and Dancin' Dogg was nominated as "Company of the Year" in the magazine's annual "Business & Equipment Awards." The device received high marks for easy set-up, indoor versatility and amazingly accurate feedback. It was also lauded for its unbelievable fun factor, pre-loaded library of world-famous course replications and crystal-clear graphics.
More recently, Dancin' Dogg launched its next-generation software package, including two new core courses and a variety of features to enhance the user experience and facilitate skills development. These include:
·         Enhanced visual shot feedback and swing analysis
·         Detailed statistics tracking for export to an Excel spreadsheet
·         Precision putting grids to help visualize contours
·         Ability to create multiple players and manage their settings and preferences
In addition to complete courses, OptiShot users can practice and compete on the par-3 option or a realistic driving range.
About Dancin' Dogg Golf
Based in Traverse City, MI, Dancin' Dogg Golf was founded in 2005 and specializes in developing innovative technologies. Its product range includes the OptiShot Infrared Golf Simulator that features an expanding library of world class courses which golfers play anytime, anywhere. Durable and built to last, OptiShot comes with a 180-day warranty and has been heralded by leading authorities nationwide, including GOLF Magazine, Golfweek, Sports Illustrated and The Golf Channel.
For more information: www.dancindogg.com, 866.941.3644.