DIRECTV, in partnership with ESPN and NBC, will give golf fans a green-side seat for all the action at the 2011 U.S. Open at Congressional Country Club — without the grass stains and humidity.  Beginning June 16, all they have to do is pick up the remote at home to watch DIRECTV's U.S. Open Experience with its U.S. Open Mix channel and three full-screen HD channels of bonus coverage, and go all interactive at the touch of the red remote button for an in-depth look at player stats, enhanced scorecards, and an interactive leader board that is available 24/7 during the four days of the tournament.  Viewers can even take a daily trivia quiz about U.S. Open history.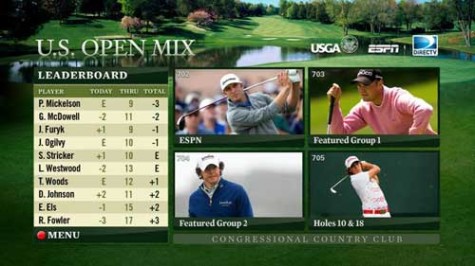 Summary of U.S. Open Coverage on DIRECTV:
·        U.S. Open Mix on Channel 701
·        Channel 702: Network Coverage
·        3 Full-Screen HD Channels of Bonus Coverage, each fully produced with multiple cameras and its own announcing teams
o       Channel 703: Featured Group – follow a group of golfers as they play each shot on the second nine.
o       Channel 704: Featured Group 2 – walk the course with a second group as they play each shot on the second nine.
o       Channel 705: Holes 10 &18 – watch as the whole field navigates its way through these challenging holes.
§         10th Hole: This par 3 used to serve as the 18th hole but now plays in the opposite direction.
§         18th Hole: Long considered the most demanding hole on the course, the former 17th par 4 provides the field's final test.
Interactive Application
On-demand Features
o       Full Leader board – Instantly see where each player is situated
o       Complete Scorecards – Provides hole-by-hole scoring and expanded stats for every golfer and every round
o       U.S. Open Trivia – Test your knowledge of U.S. Open history with the daily quiz
o       Accessible from all the U.S. Open Channels 701-705