MORONG, The Philippines — Where an old-growth rain forest meets the south Pacific, and sea turtles still come ashore to nest, this is where the course architects at Golfplan are applying the finishing touches to the first nine at Anvaya Cove Golf and Sports Club.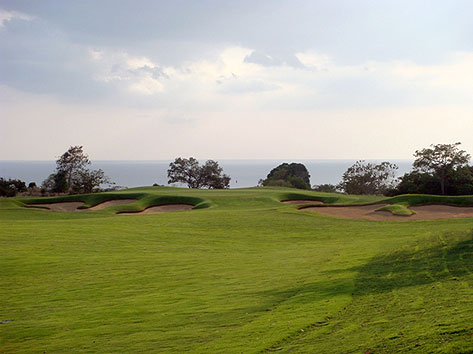 Preservation of the site's myriad natural qualities has been the primary consideration here at Anvaya Cove, a 320-hectare development 2 hours south of Manila. This, of course, is familiar trope among golf course developers worldwide. However, the developers at Anvaya Cove, Manila-based Ayala Land Co., have gone to extraordinary lengths to protect and enhance this seaside property for multiple generations of golfers, holiday-makers, homebuyers and turtles alike.
"Architects are somewhat obliged to talk about how wonderful their client's property is, but Anvaya Cove requires no such lip service. This is the best site I've ever worked on, full stop, and I expect the finished 18 here to be the highlight of my career," says Golfplan Partner Kevin Ramsey.
"This is a singular piece of terrain, and it takes about 10 minutes on site to gain that understanding. The mountains frame everything and the ocean is so close. The golf holes we've created both sweep down to the beach and sit high above the surf, on exposed bluffs, with 180 degree views of the Pacific and the mountains across the bay to Bataan."
When Ramsey and his partner in Golfplan, David Dale, muse on the quality of seaside golfing terrain, they bring more context and experience to the table than most any course architects working today. The firm (www.golfplan.com) has designed more than 150 golf courses in 50 different countries, and Anvaya Cove Golf and Sports Club continues a recent run of Golfplan project sites, all of them in Asia, that serve as a highlight reel of wind, sand and salt water:
Pine Beach Golf Links in Haenam, South Korea, opened in 2009 on cliff tops that form the eastern edge of the Yellow Sea
Weihai Point Golf Resort, opened the year before in Shandong Province, China, on a remarkable, multi-pronged spit of land that juts out into the western Yellow Sea.
In April 2008, the firm christened New Kuta GC on cliffs above Jimbaran Bay, in Bali, Indonesia — it played host to the Indonesian Open 10 months later and was named Best New International Course by Links Magazine for 2008.
Later that same year, Sea Links Golf & Country Club opened for play among the towering dunes along Vietnam's stunning Binh Thuan coast
"An architect might consider any of these projects to be the site of a lifetime, so we feel very privileged to have worked them all in the space of three years," Ramsey said. "It makes one appreciate all the more Ayala Land Co.'s determination to build a truly eco-sensitive golf course here. Again, you needn't be on site here very long to understand why the owners are so intent on preserving the natural attributes, the views, the serenity, the flora and fauna."
Ramsey said the first nine at Anvaya Cove Golf and Sports Club will be grown and ready for play by the end of 2011. The second nine will begin construction so soon as the front nine is finished. Here the developers' eco-consciousness is revealed to be more than mere public relations and marketing-speak. For example, the development schedule has been strikingly deliberate. Ownership has dictated that during construction, no more than two holes may feature exposed soil at any one time — to avoid the threat of soil erosion in this rain forest.
When all is said and done, Ramsey estimates that this unusually careful approach will add a full year to the construction process.
"Green golf course design and environmentally sensitive course construction are easy to talk about but difficult to do," the architect says. "Time is money, and the longer this course takes to build and grow in, the longer the developer must wait to sell memberships, tee times and housing shares. So I applaud Ayala for their patience and far-sighted approach. It's rare indeed.
"Consider the road design: They are splitting the roadways in many locations across the resort, creating one-way loops that save individual trees and create more narrow, less intrusive the right-of-ways. Where trees have been impacted, they have made a huge commitment to replanting those trees — the largest I've seen on any resort project that I know of. They talk the talk, and walk the walk."
Ramsey's course design dovetails with this approach. Fairways on the par-72, 7,100-yard layout will be turfed with Manila grass, a strain of zoysiagrass that requires less water and has proved more disease-resistant than 419 (the bermudagrass strain that is most commonly used on golf courses in The Philippines). Golfplan also specified Miniverde on the greens, a less maintenance-intensive alternative to Tifeagle bermuda
Less maintenance-intensive means more modest chemical applications, explained Ramsey, who noted that the greens on the front nine, "have grown in beautifully and look absolutely spectacular."
The architect quickly notes that an eco-friendly course that fails to thrill golfers misses the point. In Ramsey's opinion, Golfplan's first design in The Philippines will, upon completion, soon be recognized as the country's best.
"There's no reason this course couldn't host the Philippine Open or any pro tournament in Asia — at 7,100 yards, at sea level, with the consistent ocean breezes. My clients here are pretty proud and perhaps a bit startled by just how great this golf course is going to be. And the back nine, which takes shape next year, is arguably more stunning."
Highlights that have already taken shape, on the front side, include the par-5 2nd and the par-3 8th holes. But, as Ramsey explains, "The design evolves as you play it — it fits together as one piece. The front nine starts out going toward the mountains, heads to the sea, then changes character as it travels back to the clubhouse through several micro-climates: grasslands, rain forest, ridge tops.
"The back nine is different: immediately dramatic. It heads directly from the clubhouse to the coast. I won't call them signature holes, but people will remember 11 through 13. The 11th is a short, driveable par-4 that plays along the cliffs above Anvaya Cove; 12 is a long par-4 that sweeps right down to the beach — we're talking wind and sea spray on your cheeks!"
Thirteen plays high above that same beach. It's a short par-3 that plays away from shore, along a narrow ridge with the Cove at left, the coast stretching away to the right and 270 degrees of panorama.
Ramsey says a course this gripping, this exposed to the wind, this dramatic in its elevation changes will "never be easy, but it will not be overly difficult either. There are very few forced carries from the forward tees, and none of them taxing. We've designed it to accommodate the family resort that has taken shape here, but it will severely test anyone who wants that challenge."
[For more information on this and other projects from Golfplan call +1.207.526.7190, or visit www.golfplan.com]
About Golfplan
Partners David Dale and Kevin Ramsey are based out of Golfplan's U.S. headquarters in Santa Rosa, Calif., while the famously globetrotting Ron Fream, the firm's founder, now operates a satellite office from his home in Johor Bahru, just over the border from Singapore in Malaysia.
Since its founding in 1972, Golfplan has built some of the world's most celebrated courses, in some of golf's most exotic locations: Pezula, on South African cliffs overlooking the Indian Ocean; Bali Handara and Jagorawi, in the tropical jungles of Indonesia; Shore Gate, in the storied sand barrens just a few miles from Pine Valley and the boardwalks of Atlantic City, New Jersey, in the United States; the 27 holes at Disneyland Paris; the mountainous Bonari Kogen GC, Japan's top-rated resort course and recently rated no. 4 in the country; and The Club at Nine Bridges in Korea — host to the Samsung World Championship and World Club Championship, firmly ensconced on the world Top 100 lists at both Golf Digest and GOLF Magazine, and recently named by GOLF as one of the top 50 courses to be designed in the last 50 years (#20).