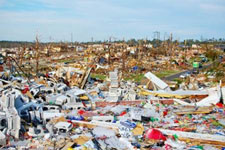 The Alabama Tornadoes of April 27th have left behind massive destruction. They made headlines for a few days, but since then the spotlight has moved on. The CNN trucks and news crews have all but left, yet the devastation remains. The Red Cross, community churches, local charities and community leaders were quick to come to the aid of others, but the damage is something that these communities will be dealing with for months and years to come. Imagine coming home to see a concrete slab where your house used to be, and all your personal belongings blown away with it… That's what countless families are dealing with right now as the heat of summer approaches.
I've never done much of anything for charity in my life and I'm not the type of person to ask for help from others, but in an effort to make a difference I am reaching out to my friends in golf and hitting the road to play in a golf marathon organized to help with the recovery. I've been fortunate to be able to write about golf at intothegrain.com and have fun doing it, and now I'm proud that I can use my position as a golf blogger to help others through this wonderful game. Through our partners  Oak Mountain Church and the Christian Mission Services, we'll make sure the funds go directly to the families right there in need of services.
The funds we raise will be distributed to communities, families and relief workers to sustain them during rebuilding. The Golf-A-Thon will be held at a top-rated golf facility called Limestone Springs in Oneonta, Alabama on June 20, 2011 with the goal of playing up to 100 holes in one day. I'm asking for pledges and donations in an effort to reach my goal of raising $1500. These pledges can be as simple as $1 per hole played, or any flat amount you or your company wish to contribute. I'm also looking for corporate sponsorships. Every penny helps! Please take a moment to click on the link below to pledge your support, or email/call me and I'll give you more information.
http://BamaGolfaThon.golfreg.com/intothegrain
If you have spare clothes, non-perishable food or cases of water, I will pick them up! I will be taking as much as my car can carry to Birmingham on June 20th so let me know!
Thank you for your time and generosity!
John F Duval, Editor
http://www.intothegrain.com
1648 Taylor Road #151
Port Orange, FL 32128
(386) 795-6621
jfd@intothegrain.com