(COVINGTON, GA) – Bridgestone Golf – innovator of premium golf balls, clubs and accessories – unveils the TOUR B XS Tiger Woods Edition golf balls, a collaboration with the 14-time major championship winner that benefits the TGR Foundation, which receives a portion of all proceeds.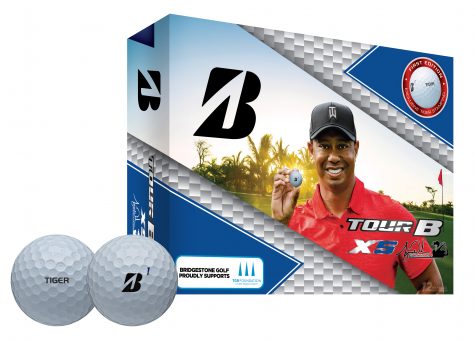 The golf balls feature a custom "TIGER" logo that replicates how Woods marks his competition golf balls and distinct packaging to highlight the charitable benefits and limited, special-edition product. From a performance perspective, the Tiger Woods Edition ball is identical to the standard TOUR B XS model, which Woods currently uses on the PGA Tour. The new line ($49.99/dozen) will be carried at participating national retailers beginning April 1st.
"We worked closely with the Bridgestone team to come up with a concept that benefits both golfers and my TGR Foundation, which is very important to me," says Woods. "The TOUR B XS easily outperforms any ball I've ever played. It is incredibly long, but offers excellent feel and spin around the green, which makes me confident in any situation."
With a decorated career that includes 14 major wins and a record run of 683 weeks as the world's top-ranked golfer, Woods transitioned to the TOUR B XS before the 2017 Hero World Challenge and has since recorded his best professional finishes since 2013. Beyond playing Bridgestone balls in competition, Woods appears prominently in the company's marketing campaigns, including the new "You're Back THERE!" video, available here: https://www.youtube.com/watch?v=8c1M4UXBEtg.
"Tiger is a rare athlete who transcends his sport and it's been a treat for golf fans around the world to watch him compete this season," says Angel Ilagan, President and CEO of Bridgestone Golf. "Working with both Tiger and the TGR Foundation has been a tremendous experience and we're excited to build on the popularity of Bridgestone golf balls, while helping a great cause."
The TOUR B XS Tiger Woods Edition is the newest member of the popular TOUR B Series, the most technologically advanced golf balls Bridgestone has ever produced. The X and XS lines provide low-handicap players with tremendous spin and greenside control due to a soft urethane cover formulation, while increased distance comes from enhanced aerodynamics and an improved 330 Dual Dimple design.
During development, company engineers used data from more than three million in-person and online ball fittings, combined with insights from leading third-party industry sources, to identify needs of specific player types. They then drew on more than 800 golf ball patents to determine which proprietary technologies would most benefit each golfer persona identified.
The line consists of the TOUR B X, XS, RX and RXS (each $44.99) – which provide unmatched feel, accuracy and distance. To help players find the perfect ball for their games, Bridgestone offers two quick, easy and comprehensive fitting options:
BFIT Golf Ball Fitting App – Free to download, the app turns the iPhone into a mobile launch monitor by utilizing the camera to analyze the user's swing and recommend the best Bridgestone ball for his or her game.
New Online Fitting Tool – Available at www.bridgestonegolf.com, it accommodates the full spectrum of players. The "Quick Fit" option easily determines the best ball for novices while the in-depth "I Know My Game" presents detailed questions to assist experienced golfers to find the perfect fit. The "I've Been Measured" path allows users to input launch monitor data, ensuring the most accurate recommendation possible.
Each TOUR B Series golf ball features proven characteristics which continue to make Bridgestone Golf among the most respected brands in the industry. They include:
Accuracy – Gradational core optimizes energy transfer to create low side-spin and high ball velocity for incredible distance and accuracy gains.
Consistency – Seamless cover design utilizes injection molding technology to stabilize ball flight on all shots.
Distance – Aerodynamically superior dimple profiles provide different player types with vastly enhanced length and control.
Feel – SlipRes cover technology increases friction by creating more stability between the ball and club for enhanced control with irons and wedges.
In addition to Woods, Bridgestone Golf's professional staff includes FedExCup champion Brandt Snedeker, Olympics bronze medalist Matt Kuchar, Masters winner Fred Couples, rising stars Bryson DeChambeau and LPGA stars Lexi Thompson and Cheyenne Woods.
About Bridgestone Golf
Bridgestone Golf, Inc. is based in Covington, GA and manufactures premium golf balls, clubs and accessories under Bridgestone and Precept brands. The company started making golf balls in 1935 and, as the world's largest tire manufacturer, leverages its 900 rubber polymer science engineers worldwide to produce high-performing products. Customer swing and related data, captured through its popular, nationwide ball-fitting program, advises continuous advancement of ball technology. Bridgestone Golf, Inc. is a wholly-owned subsidiary of Bridgestone Sports Co. Ltd., headquartered in Tokyo.
More information: bridgestonegolf.com.