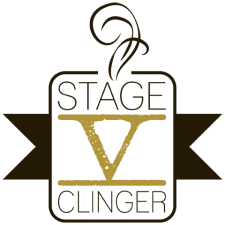 Stage V Clinger Rolls Out Custom, Portable Cigar Holders Nationwide in Time for the Holidays
CHICAGO, Ill., November 1, 2016- Cigar enthusiasts finally have the "third hand" they always wished for as the Stage V Clinger cigar holder makes its way onto golf bags, snow blowers, beach chairs, grills, boats and poker tables this holiday season. The industry's most versatile and attractive cigar holder is now perfectly gripping cigars across the country so they are always lit and protected. Plus, the Stage V Clinger offers customization for personal stocking stuffers, business gifts and monogrammed presents.
How the Stage V Clinger was invented
Two childhood friends from Chicago, who always found time to enjoy cigars together on the golf course or camping, inspired the Stage V Clinger. Over time, the two founders became husbands, fathers and entrepreneurs so they're hands were always tied when it came to looking for a clean, dry and safe spot to lay down their lit cigars. And so ignited the idea for a solid and good-looking cigar holder, strong enough to hold up with their active lives.
How to Use
The Stage V Clinger is flexible and attaches easily to golf carts and bags, lawn mowers, boats, beach chairs, etc. to keep lit cigars intact in a sophisticated way. The sleek design allows cigar smokers to attach the holder to any vehicle or vessel that a magnet can mount to or a Velcro strap can wrap around. The ribbed handle is easy to grip and the light pressure spring keeps cigars and cigarillos of any size in place without a pinch or tear to the cigar.
Customize
The Stage V Clinger is custom with a variety of color choices as well as personalization options with the gift recipient's name or business logo. The cigar holder is ideal for golf tournaments, bachelor parties, dads-to-be and client gifts and for the everyday boater, griller, golfer, gambler, beach-goer, driver and traveler.
How to Purchase
The cigar holder can be purchased as a single unit ($12.99) or as a pack of four ($44.99) through the Stage V Clinger website with free shipping in the USA or on Amazon. For custom imprints, order 4 weeks prior to the event is required.