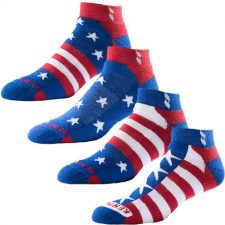 KENTWOOL CELEBRATES ITS "AMERICAN-MADE" HERITAGE WITH NEW USA COLLECTION
"World's Best Golf Sock" Now Available in 5 Patriotic Colorways to Help Golfers Showcase Their American Pride
GREENVILLE, S.C. — Just in time for Independence Day, KENTWOOL, maker of the "World's Best Golf Sock," announced today that it is celebrating America with the introduction of a new USA Collection in its popular Men's Tour Profile sock model. The USA Collection showcases 5 fun, new designs in red, white and blue hues: Liberty, Stars – Blue, Stars & Stripes, Stars – Red and Independence, shown in order from left to right.
Inline image 1
"KENTWOOL is proud to be an American manufacturer with roots dating back to 1843, so we wanted to create a sock line to honor that heritage and help golfers celebrate our great country," said Dan Murphy, president of KENTWOOL. "Something seems a bit disingenuous about companies who offer American-themed products but then choose to produce them off-shore. We offer a true Made in the USA product that is unrivaled in quality and comfort, and we're excited to share it with golfers from sea to shining sea."
KENTWOOL Men's Tour Profile socks are constructed from a proprietary blend of Super Fine Merino Wool and other natural and high-tech performance fibers. Each pair is infused with innovative WINDspun technology to deliver unparalleled comfort and is designed to reduce friction, abrasion and muscle fatigue. In fact, KENTWOOL is so confident in the comfort of its socks, the company offers a lifetime "Blister-Free Guarantee" with the purchase of every pair.
The new KENTWOOL USA Collection will be available June 22nd at KENTWOOL.com and select retail locations. The USA Collection will feature a festive retail price of $17.76 per pair (regularly $19.95) online for a limited time only. For the bold patriots looking to make a fashion statement, KENTWOOL will offer a limited edition "Mix & Match" pack featuring one each of the Liberty, Stars – Blue, Stars & Stripes and Independence styles. The Mix & Match pack features a retail price of $35. The USA Collection is available in men's sizes L and XL and in women's Medium.
Inline image 2
Since 2008, KENTWOOL has been manufacturing the "World's Best Golf Sock," just outside of Greenville, SC. Drawing on over 150 years of mastery in wool manufacturing, KENTWOOL leverages the attributes of wool, nature's performance fiber, for unmatched comfort and performance in the sock category. For more information on the KENTWOOL brand, visit http://www.kentwool.com.
###
About KENTWOOL
Founded in 1843, KENTWOOL remains one of the nation's longest running, family-owned textile companies. In 2008 KENTWOOL Performance Division was established to utilize the parent company's nearly two-century-old heritage of superiority in textiles to create socks which draw upon wool's natural wicking and cooling properties for moisture management, sheer comfort and other performance ­enhancing benefits. The "World's Best Golf Sock" was born. Since entering the marketplace, KENTWOOL has won two Majors and numerous other TOUR events, establishing itself as golf's leading, premium Merino wool golf sock. KENTWOOL socks are trusted in competition by scores of Tour caddies and their players. Based in Greenville, SC, all KENTWOOL products are made in the USA. For more information visit www.KENTWOOL.com.