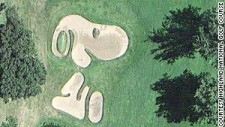 Legendary cartoonist caddied and played golf often at his hometown municipal golf course
Lawrence, Kan. (Aug. 11, 2015) – Charles Schulz made his fame and fortune as a cartoonist, but he enjoyed playing golf in his hometown of St. Paul, Minn., nearly as much as he enjoyed making people laugh with his Peanuts characters for 50 years.
Schulz died in 2000, but his most famous cartoon character, Snoopy, lives on with a specially designed bunker on the 15th hole at Highland National Golf Course, the public course where Schulz caddied as a young boy and played golf throughout much of his life.
The character design was incorporated into the major course renovations that were completed in 2005.
"Charles Schulz was a huge figure in the St. Paul area and he loved golf," said Paul Miller, who collaborated on the course work with Garrett Gill. "We wanted a way to honor his contributions to golf in the area, and Mrs. Schulz liked the idea. At first, we thought of doing a Snoopy-shaped pond, but the plans evolved into a Snoopy bunker. And it works to define the landing area of the hole."
The 15th hole is a 424-yard straightaway par-4, and the Snoopy bunker is clearly visible to traffic driving by on the neighborhood street.
"A lot of people will come by to look at it," said Denise Kispert, a local resident who has been the golf course superintendent at Highland National for the past 20 years. "It defines our golf course."
But Highland National offers much more than a tribute bunker to the city's favorite son. The 27-hole facility welcomes more than 30,000 golf rounds over the short Minnesota season. It also has hosted qualifiers for several state championships.
And it has been a great place to work for Kispert, a 20-year member of the Golf Course Superintendents Association of America, who started at the golf course as a summer intern almost 40 years ago.
About GCSAA and the EIFG
The Golf Course Superintendents Association of America (GCSAA) is a leading golf organization in the United States. Its focus is on golf course management, and since 1926 GCSAA has been the top professional association for the men and women who manage golf courses in the U.S. and worldwide. From its headquarters in Lawrence, Kan., the association provides education, information and representation to nearly 18,000 members in more than 78 countries. The association's mission is to serve its members, advance their profession and enhance the enjoyment, growth and vitality of the game of golf. Visit GCSAA at www.gcsaa.org or find us on Facebook or Twitter.
The Environmental Institute for Golf is the philanthropic organization of the GCSAA. Its mission is to foster sustainability through research, awareness, education, programs and scholarships for the benefit of golf course management professionals, golf facilities and the game. Visit EIFG at www.eifg.org or find us on Facebook or Twitter.