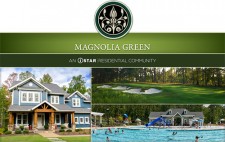 Magnolia Green Golf Club Testament to iStar Residential's Commitment to Creating Richmond's Leading Community
(MOSELEY, Va.) – Magnolia Green – central Virginia's premier multi-generational, active-lifestyle residential community – announces the new 18-hole Magnolia Green Golf Club will open to the public on Friday, May 22.
First unveiled as a nine-hole Westham Golf Club in 2010, Magnolia Green Golf Club is a semi-private Nicklaus Design in association with Tom Clark. It has been masterfully expanded into a par-72, 7,150-yard layout under the watchful eye of iStar Residential, one of the U.S.'s leading developers of master-planned communities. iStar invested more than $3 million to build the new nine, making Magnolia Green only the second 18-hole course to open in Virginia since 2010.
The Billy Casper Golf-managed layout is enjoyable for players of all abilities and a cornerstone of Magnolia Green, Richmond's best-selling residential development. To date, iStar has invested nearly $50 million in the community with a second residential phase and $10 million amenity package – which will include an aquatics center, golf clubhouse and tennis facility – scheduled to break ground in 2015.
"Magnolia Green has more of the look and feel of a course in the Carolinas, making it unique to the Richmond market," says Bobby Kidder, General Manager of Magnolia Green Golf Club. "It's a strategic, second-shot golf course with wide fairways, short rough and sloping greens."
Nicklaus Senior Design Associate Chris Cochran oversaw design and construction of the new nine, expertly incorporating the area's indigenous natural beauty with Bermuda grass fairways and bentgrass putting surfaces draped over undulating terrain. His team worked hard to meld the pre-existing nine with the new holes.
"We developed a fresh strategy for each hole while massaging what was already there," he says. "We kept the course's basic routing the same, but worked on design features like yardages to create more variety and excitement."
Memorable tests include a reverse Redan-style par-3 third hole which invites players to aim left so the slope will help guide tee shots down to the green, and a long par-4 18th featuring an elevated green well-defended by a water hazard.
The course will be open to members beginning Monday, May 18. Greens fees range from $40 – $60 on weekdays and $50 – $70 on weekends, and club memberships are available.
About Magnolia Green
Located just southwest of Richmond, Va., Magnolia Green is the region's best-selling community. It features a wide selection of townhomes, single-family and custom-built residences from just under $200,000 to $1 million. An array of parks and hiking trails, new 18-hole Magnolia Green Golf Club, swimming pools, sports courts and playing fields create an all-inclusive lifestyle for active adults and families alike.
Magnolia Green offers townhomes, single-family and custom-built residences from Arbor Signature Homes, Biringer Builders, CraftMaster Homes, Eastwood Homes, Falcone Custom Homes, Harring Construction Co., HHHunt Homes, LeGault Homes, LifeStyle Builders & Developers, Ray Williams Custom Homes, Ryan Homes, Southern Traditions Custom Home Builders, South River Custom Homes and Perkinson Homes.
More information: www.magnoliagreen.com, www.magnoliagreengolfclub.com
About iStar Residential
iStar Residential is one of the largest investors in luxury condominium, multi-family and master-planned residential developments throughout the U.S., having financed and invested in $10 billion of residential projects since 1993. The iStar Residential portfolio has included interests in over 18,000 condominium units in the nation's top markets and 65,000 acres in master-planned communities with potential for an estimated 50,000 single family and multi-family units. The company's unique, cohesive platform extends from property entitlement and development to construction, bridge and long-term financing through asset servicing, property and portfolio management.
iStar Residential is a division of iStar Financial Inc. (NYSE: STAR), a fully-integrated finance and investment company focused on the commercial real estate industry. It provides custom-tailored investment capital to high-end private and corporate owners of real estate and invests directly across a range of real estate sectors. Taxed as a real estate investment trust ("REIT"), iStar Financial has invested more than $35 billion over the past two decades.
More information: www.istarfinancial.com.