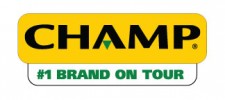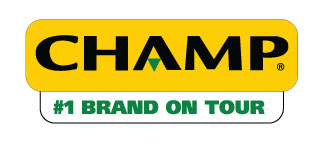 Facilitates Thinner, Lighter, Stronger Outsoles in High-Performance Golf Shoes
(MARLBOROUGH, MA) – CHAMP/MacNeill Engineering Worldwide – CHAMP/MacNeill Engineering Worldwide – The World Leader in Sport Cleat Technology® and maker of innovative CHAMP spikes, high-performance grips, golf tees and accessories – announces the launch of SLIM-Lok, the thinnest, lightest and strongest spike fastening system available for golf footwear.
The patented integrated, built-in locking ring, allows shoemakers to create thinner, lighter designs engineered to bring golfers closer to the playing surface. An added bonus is all SLIM-Lok spikes and materials are compatible to every TRI-Lok® and Fast Twist® shoe ever made. It also greatly simplifies the spike changing process while virtually eliminating the risk of spike loss during rounds. An exclusive CHAMP technology, SLIM-Lok is trusted by scores of leading OEMs – including ECCO®, New Balance®, Nike®, OGIO®, TRUE Linkswear™ and Under Armour®
"We've been able to develop a superior system by combining our unrivalled manufacturing heritage and expertise with the latest material and tooling technologies." says Harris MacNeill, President and CEO of CHAMP/MacNeill Engineering Worldwide. "SLIM-Lok is also precisely aligned to the needs of modern golfers seeking greater stability, cushioning and lightweight comfort."
The SLIM-Lok premiere is accompanied by the introduction of replacement golf spikes that fit in the millions of pairs of golf shoes currently in the marketplace which feature TRI-LOK and Fast Twist spike receptacles. This unmatched level of compatibility allows retailers to reduce inventory SKUs while eliminating consumer confusion.
SLIM-Lok replacement spikes are available in all of the company's most popular models, including Zarma Tour® , ScorpionStinger™ and Helix®.
For more information: www.champspikes.com, 1-800-OK-CHAMP.
About CHAMP/MacNeill Engineering Worldwide
Celebrating more than 80 years of unparalleled engineering innovations, CHAMP/MacNeill Engineering Worldwide has been a pioneer in spike technology since it introduced the world's first locking spike, SURE-LOK. The company is the world's largest manufacturer of replacement spikes specific to various sports, and the dominant global brand in football, soccer, golf, baseball, cricket and rugby.
The company has produced several industry-changing systems under the CHAMP brand and has become the #1 Brand On Tour®. Beyond its wide range of technically-advanced cleats and the Zarma FLYtee™, the company's signature C Grips lines have gained a loyal following among players who recognize their superior feel, durability and performance characteristics. With distribution in more than 100 countries, CHAMP/MacNeill is headquartered in Marlborough, MA, with offices in Europe and Asia.