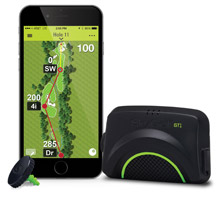 RIDGELAND, Miss., January 18, 2015… SkyGolf®, maker of the #1-Rated and Most-Trusted Rangefinder in Golf, announced today it is introducing its new SkyGolf GT1 Game Tracker system for on-course play.
The SkyGolf GT1 Game Tracker is a solution that provides unmatched GPS accuracy when integrated with its SkyCaddie Mobile Rangefinder for use on smartphones. The system includes the SkyGolf GT1, a highly-accurate, wearable GPS and RFID sensor and featherweight tags that the golfer attaches to the grip end of each club. Designed as a complete system, the SkyGolf Game Tracker provides both the distances you need while playing but also easily captures the club used, distances and the location of each shot. During the round, golfers can quickly review their shots in real-time and get critical distance information via SkyCaddie Mobile Golf GPS app.
Each captured shot is also sent automatically to the SkyGolf 360 Cloud to eliminate connecting to a computer after the round. Post-round, golfers can review the captured data in greater detail providing valuable insight into their overall round performance, strengths and weaknesses. Simple, intuitive editing is available in both real-time in the app as well as later in the SkyGolf 360 Cloud.
The highly-accurate and wearable GT1, provides full-time GPS position updates every second to substitute for the smartphone's positioning. The GT1 benefits of extending battery life and improving the accuracy provided by Smartphones can also be enjoyed without the club tags. The full-featured SkyCaddie Mobile app uses brilliant HD golf course maps from SkyCaddie's unmatched library of 35,000 error-corrected golf courses.
So, tracking the club used, distance and location of each shot has never been easier or more reliable. From the SkyGolf 360 Cloud, your results are immediately available for sharing with friends, family or your golf professional in real time or any time after the round. It's basically a ShotLink for recreational golfers with its game changing technology that allows friends, family and coaches to follow you as you play a round of golf.
About Sky Golf
SkyGolf, maker of SkyCaddie, the #1-Rated and Most-Trusted Rangefinder in Golf, is a private company specializing in the development of innovative positioning systems and technology specifically designed to help golfers play better and have more fun. SkyCaddie is the Official Rangefinder of PGA of Canada, PGA of Great Britain & Ireland, and PGA of Sweden.
The overall mission of SkyGolf is to help golfers play better with better information while respecting the long-standing traditions of the game. By using technology responsibly and within the spirit and rules of golf, SkyGolf provides golfers of all skill levels with better and more rewarding golf experiences. The Company's innovative products include: SkyCaddie®, rangefinders that are preloaded and ready-to-play out of the box; SkyPro®, golf's most powerful swing/putting analyzer and training tool; SkyGolf 360, golf's fastest growing community where golfers can go to connect to their Game, their Courses, their Equipment, their Golf Professional and to one another; Swing Labs®, the golf industry's first unbiased, performance-based fitting solution; SkyCourse™ Technologies, a company that equips golf course superintendents with tools they need to complete daily property management tasks with less effort, less time and less money, through a unique combination of precision GPS maps, web-based technologies and mobile mapping solutions; and the new SkyTrak™ Launch Monitor, the only company in the golf industry positioned to deliver game improvement solutions during practice, play, lessons and fitting at the course or at home. [insert SkyGolf GT1, the industry's first fully integrated rangefinder and game tracking solution utilizing SkyGolf's proprietary TruGround course library. For more information, visit: www.skygolf.com, www.skycaddie.com, www.golfskypro.com, www.skytrakgolf.com, www.swinglabs.com, www.skycourse.com, and www.skygolfgametracker.com.