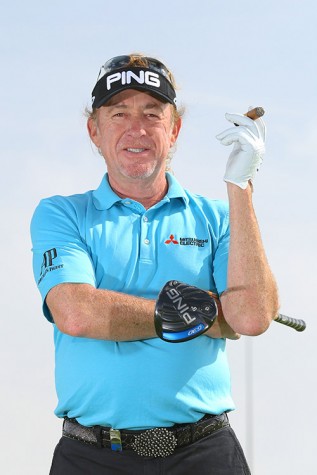 "The Mechanic" To Debut Bobby Jones Spring 2015 Collection at Abu Dhabi
Atlanta, GA – Bobby Jones, the leading purveyor of authentic luxury golf products for more than a quarter century, today announced that golf superstar Miguel Angel Jimenez has chosen Bobby Jones as his official apparel partner for 2015. Jimenez, widely hailed by golf fans as "the most interesting man in golf," will proudly don Bobby Jones Spring 2015 collection of finely crafted golf attire beginning this week at the Abu Dhabi HSBC Golf Championship.
Jimenez, who is currently ranked 39th in the Official World Golf Rankings and has 22 international victories to his credit, is popular among fans for his tour success, unique persona and modern chic style. As part of the agreement, "The Mechanic" will wear Bobby Jones full range of on-course apparel including the brand's signature luxurious cotton knit polos, premium sweaters and pants in all professional events in 2015.
"We are very excited to partner with Miguel to become his official apparel provider," said Andy Bell, President/CEO of Jones Global Sports. "He is easily one of the most recognizable players on Tour because of his unique combination of his intriguing personality and incredible talent. With our continued march towards global expansion of the Bobby Jones brand, there was an easy, natural fit with Miguel. Given his respect for the game and Mr. Jones, we know he will be a great brand ambassador for us throughout the world."
"I am very excited to become a Brand Ambassador of Bobby Jones," said Jimenez. "My key requirement when choosing golf apparel for 2015 was to select the highest quality cotton shirts available. My tournament schedule takes me to many different countries and climates around the world, so it is vital that I feel comfortable at all times on the golf course in order to give me the confidence to both play and look my best. Bobby Jones offers me the best range of apparel to suit all conditions as well as a great selection of styles and colors. I look forward very much to forging this relationship with Jones Global Sports and having the opportunity to proudly represent one of the greatest names our game has ever known."
For more than a quarter century, Bobby Jones has provided luxury men's and women's sportswear, including polo shirts, button downs, shorts, slacks and sweaters/knits to demanding consumers looking to exude a classy, cool confidence on and off the course. The Bobby Jones brand can be found at the finest golf clubs, resorts and haberdasheries in the world. For more information on the Bobby Jones brand, visit www.bobbyjones.com.