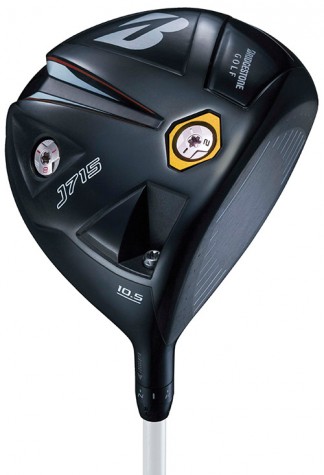 BRIDGESTONE UNVEILS J715 DRIVER FOR UNPARALLELED DISTANCE AND ACCURACY OFF THE TEE
Bridgestone J715 460 Driver Utilizes Cutting-Edge Technologies to Deliver Optimal Spin and Launch Performance
Covington, Ga. — Bridgestone Golf, the #1 ball-fitter in golf and a recognized industry innovator, will unveil its new J715 460 Driver at the 2015 PGA Merchandise Show. J715, the company's first driver in 4 years, relies on a combination of 4 innovative technologies to maximize distance and accuracy off the tee.
"At Bridgestone we don't release new products just to release new products. Our philosophy is to wait until we truly have something innovative and unique that will benefit golfers' games," said Josh Kinchen, Golf Clubs and Accessories Marketing Manager, Bridgestone Golf, Inc. "We haven't put out a new driver in several years because we don't believe a new color offering or some other less impactful technology is really worth asking consumers to part with their hard-earned dollars for. We want consumers to know that when we introduce a new club, it will always offer real tangible performance benefits. The J715 is without question the best driver we've ever made and we know that golfers who try it will see the difference it makes."
The increased distance and accuracy that the J715 Driver delivers is achieved through 4 key technologies:
1. F.A.S.T Crown
· The Flex Action Speed Technology (F.A.S.T.) crown is extremely thin near the clubface and progressively thickens towards the club head rear to enable the crown to slightly flex at impact creating higher launch and increased repulsion.
2. Power Milled Face
· Patented face milling pattern works to reduce the common ball slippage at impact problem that drivers today encounter. Maintaining the ball's position of impact leads to increased quality compression time that results in reduced spin (200-300 RPMs based on robot testing) for straighter and longer drives.
3. Spin Flight Control Technology
· Movable weights on multiple axes in the heel and center of the clubhead allow users to customize the center of gravity for desired spin and trajectory.
4. Variable Adjust System
· J715 is completely Face and Lie angle adjustable, offering face angle adjustments of up to 1° (closed and opened) and lie angle settings of standard, 1° upright and 2° upright.
The J715 Driver is available in 8.5, 9.5, 10.5 and 12-degrees of loft and will be the first Bridgestone driver in the U.S. available in both left and right hand versions (Left hand available in 9.5 and 10.5 lofts only*). The J715 driver comes standard with the Mitsubishi Fubuki™ ZT shaft and custom yellow Golf Pride® Tour Velvet™ grip.
The J715 Driver will be available at retail February 1, 2015 and will have a street price of $399 each.
*Left Hand available April 1, 2015.
Visit www.bridgestonegolf.com to learn more about Bridgestone Golf's 2015 plans and to view the comprehensive lineup of new products as they are released.