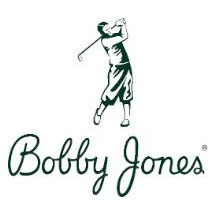 BOBBY JONES UNVEILS SPRING 2015 LAYERING PIECES TO HELP GOLFERS WEATHER THE SEASON'S CHANGING TEMPERATURES IN STYLE
Bobby Jones Offers Sleek Spring Layering Options for Comfort and Style
On-and-Off the Course
Atlanta, GA – Bobby Jones, the leading purveyor of authentic luxury golf products for more than a quarter century, today unveiled it's Spring 2015 Collection of layering pieces ideal for providing comfort and style for cool Spring sunrises on the course that fade into balmy afternoons. Characterized by a stunning combination of ¼ zips, vests, sweaters, and V-necks, the Spring 2015 line of layering pieces provides much needed warmth to early morning golfers who are all too familiar with the need to combat the chill of early spring golf, while accommodating shedding of layers as the morning dew vanishes.
Featured in the Spring 2015 collection is the Bobby Jones RTJ2 ¼ Zip Pullover. Available in an expansive palate of spring colors, this popular water-shielding garment utilizes a polyester and spandex blend to reach peak performance when facing the various climates of spring. The pullover presents top of the line color detailing around the zippers and is obtainable in 10 classic colors (Black/Charcoal, Cambridge Red/Summer Navy, Cranberry/Summer Navy, Ember/Summer Navy, Key Lime/White, Marine/White, Purple/Summer Navy, Sapphire/White, Summer Navy/Cambridge Red, and White/Summer Navy).
The RTJ2 line becomes complete with the full zip vest and a full zip jacket. The full zip vest is available in 8 astonishing shades (Black, Cambridge Red, Ember, Key Lime, Marine, Sapphire, Summer Navy, White) while the RTJ2 full zip jacket is exclusively available in Black, Cambridge Red, Sapphire and Summer Navy.
Bobby Jones introduces its newest collection of staple items for any golf course regular in their Merino Sweater line. The sweaters are available in two styles, the Wind ¼ Zip Pullover and the Wind ¼ Zip Vest. Both garments are carefully woven with 100% extra fine Merino wool, which provides the wearer warmth without overheating, perfect for days when the temperature seems to change by the minute. These essentials are available in five classic colors – Flag Red, Light Blue, Heather Grey, Pale Pink, Summer Navy.
The Leaderboard ¼ Zip is available as a traditional long sleeved pull over or as a vest. Both options contain long staple 100% Peruvian Pima Cotton premium fiber interlock that provides warmth, durability, and added comfort to the Leaderboard Line. The Leaderboard collection is designed with rib panels at the side seams and underarm, tonal Bobby Jones Signature embroidery on back neck and a contrast zippered placket. The traditional pullover boasts 13 eye-catching tones (Black/Heather Grey, Cambridge Red/Heather Grey, Charcoal/Purple, Emerald/White, Grape/Green Grass, Green Grass/Grape, Heather Grey/Summer Navy, Lemon/White, Marine/White, Navy/White, Purple/Summer Navy, Sapphire/Summer Navy, and White/Heather Grey) and the vest stands out with 6 traditional tints (Black, Cambridge Red, Grape, Heather Grey, Navy and White) making it an indispensable piece for any gentleman's wardrobe.
The Players V-neck Vest is also made of 100% Pima Cotton and is engineered for slightly warmer days on the course. This piece comes in an astounding 14 conspicuous colors (500 Purple, Black, Charcoal, Cambridge Red, Ember, Emerald, Grape, Green Grass, Lemon, Marine, Navy, Pale Pink, Raspberry, and Sapphire) allowing for golfers to select their own signature color.
In all, Bobby Jones offers a compilation of more than 18 different styles of layering pieces including unique zipper cardigan options and an Open Mock Neck made of a premium cotton cashmere blend.
"Our incredibly comfortable and versatile layering items are designed to seamlessly coordinate with a wide array of pieces in the Spring 2015 collection, giving men a sophisticated look that can easily transition throughout the round to accommodate changing temperatures, " said Andy Bell, President/CEO of Jones Global Sports. "The Bobby Jones brand has long been praised for its distinguished sweaters, and this line certainly continues that tradition."
For more than a quarter century, Bobby Jones has provided luxury men's and women's sportswear, including polo shirts, button downs, shorts, slacks and sweaters/knits to demanding consumers looking to exude a classy, cool confidence on and off the course. The Bobby Jones brand can be found at the finest golf clubs, resorts and haberdasheries in the world. For more information on the Bobby Jones brand, visit www.bobbyjones.com.