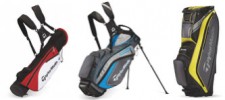 CARLSBAD, CALIF. (November 10, 2014) – TaylorMade Golf, an industry leader in equipment and accessories, today announced its 2015 bag line. Complete with style and functionality, the 2015 TaylorMade bag line incorporates a blend of design with attention to details, culminating in the best TaylorMade bags to date.
Stand bags in the 2015 line up feature intriguing asymmetrical panels and contoured top designs with integrated handles in a wide breadth of color. In addition, the bags feature a Velcro glove tab, scorecard pocket for easy access and a 4-point comfort shoulder strap system. Select bags feature a large pocket with a double-zipper to allow the golfer to avoid cart straps from blocking access. All zippers have been redesigned for ergonomic enhancement. The inclusion of lightweight yet durable materials have allowed for weight reductions across the entire offering.
Cart bags in the 2015 line up feature refined top designs with optimal storage and functionality.  Partially exposed top constructions provide an aesthetically appealing and bold update to the conventional cart bag. All bags feature double zippered garment pockets, velour lined valuables pockets, pass through cart straps, push-cart compatible bases and can accommodate oversized putter grips.
"When we talked with golfers about their current bags, we found room for improvement among the 'little things' from a design and functionality standpoint," said Paul English, Senior Director – TaylorMade Golf Accessories. "And as golfers ourselves, we agreed and focused our efforts on the details and design. By adding more color, double zippers where appropriate and unique features like the glove tab and integrated umbrella slot, we created attractive and functional bags for any golfer."
Highlighted by the TourLite, Supreme Hybrid, and Catalina, TaylorMade has an option for the walker, the rider or the player who enjoys both.
TourLite
Weighing less than four pounds, the TourLite's ergonomic straps with air mesh ventilation, anti-split stand system, scorecard slot and glove tab make this the ultimate walking bag. Available in a variety of colors, the TourLite includes additional compartments and zippers that make access to equipment faster and easier.
Additional features include:
4-way top with handle
2 full-length dividers
7 pockets
Crush-resistant construction
EVA molded hip pad
MSRP: $169.99
Supreme Hybrid
Designed for a golfer who enjoys walking the course on occasion, but also enjoys cart riding, the Supreme Hybrid features the storage space of a cart bag with the mobility of a lightweight stand bag. The Supreme Hybrid is complete with two slots to accommodate oversized putter grips, double zippered garment pocket, a four-point shoulder strap with air mesh for ventilation, an anti-split stand system and a cart compatible base.
Additional features include:
14-way top with handle
4 full-length dividers
10 pockets
Crush-resistant construction
Glove tab
MSRP: $219.99
Catalina
The Catalina cart bag boasts style, functionality and durability. Comprised of a 15-way top with an integrated water-resistant umbrella slot, oversized integrated putter well, double zippered garment pockets and four full-length dividers, the Catalina is a staple on any cart.
Additional features include:
10 pockets
Integrated top and trunk handles
Cart-lock strap
Pass through cart strap
Push-cart, compatible base
MSRP: $219.99
Rounding out the TaylorMade Golf 2015 bag line are the following:
Quiver: Features a 2-way top, ergonomic shoulder straps and four total pockets. The simple, lightweight, "Sunday" bag.  MSRP: $89.99
PureLite: Weighing less than five pounds, the PureLite has a 5-way top with integrated handle, glove tab, four point shoulder straps with air mesh for ventilation, anti-split stand system and nine total pockets. MSRP: $189.99
San Clemente: A versatile 10-way stadium top, two slots for oversized putter grips, push cart compatible base and seven total pockets including double zippered garment pockets make up the San Clemente cart bag. MSRP: $169.99
About the adidas Group
The adidas Group is a global leader in the sporting goods industry, offering a broad portfolio of footwear, apparel and hardware for sport and lifestyle around the core brands adidas, Reebok, TaylorMade, Rockport and Reebok-CCM Hockey. Headquartered in Herzogenaurach/Germany, the Group employs more than 50,000 people across the globe and generated sales of €14.5 billion in 2013.
About TaylorMade-adidas Golf
Headquartered in Carlsbad, California, TaylorMade-adidas Golf Company sells golf clubs, balls, clothing and accessories under the TaylorMade, adidas Golf, Adams and Ashworth brands. TaylorMade-adidas Golf Company posted 2013 sales of over €1.3 billion.