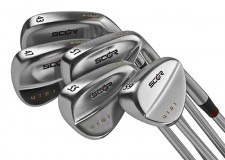 (Victoria, TX: November 10, 2014) – SCOR™ Golf today announced that its SCOR4161 line of precision wedges are now available in selected PGA Tour Superstores throughout North America.
"We are excited to have SCOR wedges sold at PGA Tour SuperStores," said Terry Koehler, President of SCOR™ Golf. "As one of the fastest growing golf retailers in North America, PGA Tour SuperStores is the ideal destination for golfers to be able to be properly fit and to purchase our innovative line of performance wedges."
"PGA Tour SuperStores is very selective in the products it carries, focusing on products that are tour-tested and that make golfers of all abilities better players," added Koehler. "We are confident that their customers will choose SCOR wedges once they see our performance superiority and experience it for themselves. Iron Byron testing against top brands of wedges proves that we offer the most comprehensive package of scoring technologies ever assembled."
Participating PGA Tour SuperStores will also have SCOR's industry leading proprietary fitting systems to ensure proper fit and gap management.
"Our goal at PGA Tour SuperStores is to provide golfers of all abilities with outstanding customer service, personalized club fitting and superior products," statedAaron Miller, merchant-golf clubs of PGA Tour SuperStores. "We are very selective about the products we choose to offer our golfers, and SCOR4161 wedges are by far the best we have seen and tested. Their attention to innovation, design, quality control and performance ensures us that SCOR wedges will be the wedge of choice for customers of PGA Tour SuperStores.
About SCOR™ Golf
SCOR™4161 is the flagship product of SCOR™ Golf. The product line erases the dividing line between short irons and wedges, and represents the most comprehensive package of scoring technology in the industry. This revolutionary approach to the scoring end of the set combines unmatched forgiveness, game improvement performance and superior precision in the scoring clubs for golfers of all abilities. The innovative SGC3 progressive weighting design features seven distinct head designs across twenty-one precision lofts from 41-61 degrees to optimize trajectory, spin and distance control for each scoring club. SCOR™4161 also features the renowned V-SOLE® technology, proprietary GENIUS® shafts co-engineered with KBS® and UST Mamiya®, and the company's own SCOR grips. All heads are Tru-Form-Forged™ from 8620 carbon steel to combine the precision of casting with the feel of forging. Each set of SCOR™4161 scoring clubs is custom built to fit each individual golfer by using the proprietary "SCORFit" fitting process that determines the exact specifications necessary to optimize a golfer's performance in the scoring zone. More information on SCOR™ Golf and SCOR™4161 can be found at www.scorgolf.com or at 877-726-7670.
About PGA Tour SuperStores
PGA TOUR Superstore is operated by Golf & Tennis Pro Shop, Inc., headquartered in Roswell, GA, and is a majority-controlled subsidiary of AMB Group, LLC.
As the PGA TOUR's exclusive off-course/off-airport retail partner, PGA TOUR Superstore provides customers with access to the same technology and expertise that card-carrying TOUR Pros use each week in the TOUR Vans that accompany them. All stores are staffed with teaching professionals and have multiple state-of-the-art swing simulators, practice hitting bays and a putting green. There is also an in-house clubmaking and repair facility. Along with equipment and accessories, PGA TOUR Superstore has an unmatched selection of men's, women's and juniors' apparel and footwear for golf and tennis.
PGA TOUR Superstore's e-Commerce website and direct-to-consumer fulfillment also offers the widest assortment of golf and tennis equipment and apparel online. PGATOURSuperstore.com is the PGA TOUR's exclusive online retail partner, accessible through the Shop link on the TOUR's website and mobile applications. For more information and career opportunities, visit us at: www.pgatoursuperstore.com.