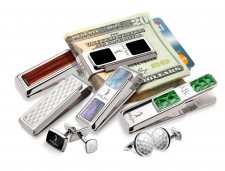 BOBBY JONES PARTNERS WITH M-CLIP TO EXPAND ITS OFFERING OF LUXURIOUS ACCESSORIES FOR GENTLEMEN
Luxury Brands Partner To Grow Product Offerings and Retail Distribution
Atlanta, GA – Bobby Jones, celebrating the iconic apparel brand's 25th anniversary in 2014, today unveiled that it has entered into a strategic partnership with M-Clip, manufacturers of premium money clips and accessories. Bobby Jones and M-Clip, both renowned for their unparalleled attention to detail in fine men's fashions and accessories, will collaborate on new product designs and work together on expanding M-Clip's distribution throughout the golf world beginning immediately.
As part of the deal, M-Clip will produce a collection of Bobby Jones-branded money clips and accessories from a variety of fine material offerings including Brushed Stainless Steel, Carbon Fiber, Rhodium and Rhodium with Genuine Alligator inlay, ranging in price from $135-$265 per piece. The first pieces in the M-Clip Bobby Jones signature collection are expected to be available in time for the 2014 Holiday shopping season.
"Mr. Jones was a man of distinction in his time, not only on the golf course, but off it as well, and as a result he had an appreciation for the best life had to offer," said Andy Bell, President/CEO of Jones Global Sports. "Similarly, our customers are men of very fine tastes who demand the best the world has to offer. So when it came time to decide upon a partner to offer accessories that live up to the Jones' standard, M-Clip was the only choice that made sense. We are excited to partner with Ron and his team at M-Clip to offer our customers Bobby Jones-branded accessories, and to help expand awareness of the M-Clip brand in the on-course golf market as well."
M-Clip money clips are highly regarded for being the finest and most functional money clips in the world, due in large part to the company's patented sliding lever design. The design allows for both secure closure and hassle-free access when needed. In addition to the exclusive Bobby Jones-branded collection, Jones Global Sports will also offer the M-Clip full range of custom options to golf courses worldwide through its sales team. M-Clip's ability to showcase Club and event logos through its various custom design capabilities makes it a wonderful choice for premium items for tournaments and corporate events.
"The name Bobby Jones has such prestige that we couldn't be more thrilled with this partnership," said Ron McGarity, Founder and President of M-Clip Money Clip. "We look forward to joining forces with Andy Bell and his team to offer gentlemen throughout the world a keepsake item bearing one of the most revered names in all of sports. Our philosophy to exceed our customers' expectations by providing unparalleled attention to detail, is one shared by Bobby Jones, so we are confident this venture will be a success."
For a quarter century, Bobby Jones has provided luxury men's and women's sportswear, including polo shirts, button downs, shorts, slacks and premium layering items to demanding consumers looking to exude a classy, cool confidence on and off the course. The Bobby Jones brand can be found at the finest golf clubs, resorts and haberdasheries in the world. For more information on the Bobby Jones brand, visit www.bobbyjones.com.
About Bobby Jones
Headquartered in Atlanta, Georgia, Jones Global Sports, an affiliate of the Waitt Company, manufactures, markets and distributes elegantly styled men's and women's sportswear, accessories and performance golf equipment. Like its namesake, Bobby Jones products are the definition of class, using only premium quality materials to create classic, timeless designs that exude confidence on and off the course. The Bobby Jones brand has been a mainstay in the golf industry since the 1990's and celebrates its 25th Anniversary in 2014. Bobby Jones is sold in the finest private clubs, resorts and golf courses worldwide. For more information visit www.bobbyjones.com.
About M-Clip
Headquartered in Savannah, Georgia, M-Clip is a family-owned and operated company that manufactures, markets and distributes the world's finest money clips and premium accessories. For nearly a decade, M-Clip has been the choice of discerning gentlemen when choosing a stylish, functional money clip. Complementing the brand's flagship money clips, M-Clip now offers an assortment of luxurious options in cufflinks, tie bars, key chains and small leather goods. For more information on the entire M-Clip product offering, visit http://www.m-clip.com.