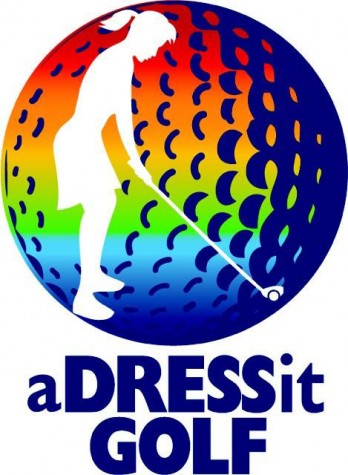 VALENCIA, CA (March 26, 2014) – Known for her work on the big screen and television, actress Kristy Swanson is adding 'designer' to her list of credits with the launch of her new golf clothing and accessories collection aDRESSitGOLF. Aimed at the female golfer, aDRESSitGOLF will feature made-to-order pieces that can be worn before, during and after the game. Today Swanson is launching dresses in seventeen styles, three of which are reversible, in a variety of colors and patterns in addition to leggings and belts. The collection is already growing to include tops, pants, shorts, jackets, rompers and additional accessories.
A recreational golfer for fifteen years, Swanson competes year round in a variety of golf events including charity fundraisers and celebrity tournaments. It wasn't until March 2012 at the Murray Bros. Caddyshack Celebrity Golf Classic that she realized she was on to something big. While preparing to head out to the golf course, Swanson wanted to wear something comfortable, yet fashionable but had seen enough of the men's polo shirts morphed into so-called "ladies golf wear." So instead, she went with a piece from one of her favorite designers, Eva Varro, and her arrival at the event said it all. Immediately, she was asked where she purchased her dress, who was the designer, where could one be bought and it seemed that what she wore caught everyone's eye… the idea for aDRESSitGOLF was born.
Swanson immediately teamed up with famed International designer and clothier Eva Varro to begin her dream of creating something unique, versatile, high fashion but with attention to quality and detail. Her husband and business partner, Lloyd Eisler, Two Time Olympic Bronze Medalist in Pairs Figure Skating and Member of the Canadian Sports Hall of Fame, lends his expertise as a pro-athlete who knows the importance of clothing during competition and why staying dry and comfortable is crucial.
In between being a mother, wife and working actress, Swanson spent two years with Varro designing, creating and testing their pieces so that they met all the needs and desires of the female golf community. "The world of ladies golf is about to change from a fashion standpoint," explains Swanson. "I saw the need for some 'style' on the golf course, and aDRESSitGOLF is sure to provide fashionable yet comfortable clothing for women no matter what their choice of wear is…pants, shorts or a dress."
Swanson and Eisler will, once again, be participating in the Murray Bros. Caddyshack Celebrity Golf Classic on March 27-28 at the World Golf Hall of Fame in St. Augustine, Florida. aDRESSitGOlf will be a featured "hole sponsor" to showcase the entire line. In April, Swanson will also be attending the Kraft Nabisco Challenge at Rancho Mirage in Palm Desert, California where she will continue to promote aDRESSitGOLF to celebrities, golfers and fans in attendance. In addition, she and Eisler will attend the final round of THE MASTERS as guests of golf legend Gary Player who will be hosting the Gary Player Invitational. Both will be playing and Swanson will be wearing a specific from the aDRESSitGOLF collection which will be auctioned off the evening at the welcome reception & dinner.
Swanson was born in Laguna Beach, California and has been a successful actress for the past thirty five years. She's best known for her starring role in the TonyTonyTwentieth Century Fox film Buffy the Vampire Slayer, which remains a cult classic. Swanson has appeared in both starring and supporting roles in films such as Hot Shots!, The Program, The Chase, Flowers in the Attic, and her most critically acclaimed role as Kristen Connor in John Singleton's Higher Learning. Swanson has also appeared in the film adaptation of the comic-book The Phantom and played the girlfriend of Adam Sandler in Big Daddy. Her TV credits include a long list of guest-starring television appearances in episodes of Just Shoot Me! CSI: Miami, Growing Pains, Knots Landing, Early Edition, Psych, and Law & Order: Criminal Intent. Television movies include holiday season favorite, A Christmas Wish, The Bouquet, What If…, and Operation Cupcake with Dean Cain.
Next up for Swanson are the April 12th release of Lesson in Love for Hallmark Channel and the Summer 2014 release of Beethoven's Treasure with Jonathan Silverman for Universal Home Video.
aDRESSitGOLF is manufactured in Los Angeles, CA with offices located in Valencia, California. For additional questions or information, please contact info@aDRESSitGOLF.com