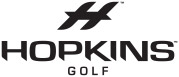 NEWPORT BEACH, CA – March 14, 2014 – Hopkins Golf is proud to offer a new line of golf balls in addition to its wedges. After a successful test market on balls during the first quarter of 2014, Hopkins is now selling three-piece golf balls called VL PRO™.
"Our direct to consumer business model is perfect for golf balls," said Greg Hopkins, Chairman and CEO. "Comparable balls sell for around $30 per dozen. Ours are just $19 and the shipping is free."
The VL PRO™ is a three-piece golf ball with a Surlyn cover designed to be long off the tee and medium-soft around the greens.
The marketing campaign for the balls is interesting as well. "We've Got Balls" is prominently displayed in email, print and TV ads. Click We've Got Balls to view the TV commercial and click HopkinsGolf.com to view the new golf balls. Bulk discounts are also available.