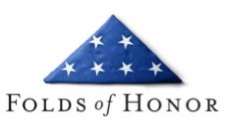 OWASSO, Okla. – Folds of Honor has named John Kim its Vice President of Digital Communications, announced Major Dan Rooney, Folds of Honor founder. In this position, Kim will be responsible for all digital content regarding the Folds of Honor mission as well as growing, maintaining and engaging audiences on all Folds of Honor digital platforms.
"We're proud to have such an experienced, talented and dedicated professional working to unify our digital message and strengthen Folds of Honor's online presence," said Rooney. "John will serve an integral role on our team, furthering our mission to better serve our American military heroes and their families."
Prior to joining the Folds of Honor team, Kim served as the coordinating producer for PGA.com/Turner Sports based in Atlanta, Ga., responsible for the editorial content and strategy of PGA.com, the official website of the PGA of America. In this position, Kim worked with PGA leadership on messaging championships, initiatives and various PGA of America news items to a large consumer audience. Kim also served as the online "voice" for the PGA of America on all social media platforms.
Kim graduated from Vanderbilt University in Nashville, Tenn., and worked at CNN/Headline News shortly thereafter until assuming his position at PGA.com/Turner Sports. Through his work with PGA.com, Kim has been a featured presenter at a number of industry events on the best practices of digital/social media and was named CableFAX's "Best of the Web & Cable: Online Community Facilitator" earlier this year.
"Becoming part of the Folds of Honor mission is the opportunity of a lifetime, not only on a professional level but on a personal level as well," said Kim. "My family came to the United States to enjoy the freedom and opportunities that only come from being an American citizen. The chance to honor the sacrifice of our nation's military to preserve those freedoms is as much a privilege as it is a new career."
Folds of Honor is a 501(c)(3) charitable organization with a mission to empower deserving military families with support and opportunities by providing educational scholarships for children and spouses of military service men and women killed or disabled while serving our great nation. Since its inception, Folds of Honor has awarded nearly 5,500 educational scholarships. For more information, visit FoldsofHonor.org.