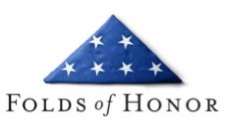 Collegiate athletes to carry golf bags inscribed with names of fallen or disabled military members to honor their service and sacrifice
Norman, Okla. – The Golf Coaches Association of America (GCAA) and Women's Golf Coaches Association (WGCA) have partnered with Folds of Honor to recognize the sacrifice of our nation's military heroes with the creation of the Folds of Honor Military Tribute Program.
The Folds of Honor Military Tribute Program allows collegiate golf programs across the nation to honor a fallen or wounded service member by having team members carry a golf bag displaying his or her name, rank and branch of service. At the end of each season, the golf program will raise funds for the bag with the proceeds benefiting its preferred charitable partner, Folds of Honor.
Folds of Honor, a 501(c)(3) charitable organization with a mission to empower deserving military families, provides educational scholarships and other assistance for the children and spouses of military service men and women killed or disabled while serving our great nation. To date, Folds of Honor has awarded nearly 5,500 educational scholarships.
"This program allows America's best and brightest student-athletes to shine a light on the significance of sacrifices made by our nation's military service men and women," said Fold of Honor founder Major Dan Rooney. "It gives them the opportunity to acknowledge and then reciprocate those losses through financial support of Folds of Honor and its scholarship recipients. The Folds of Honor Military Tribute Program ensures that participating teams and their institutions continue to leave no family behind."
The idea for the Folds of Honor Military Tribute Program was conceived when Rob Shutte, PGA of America member and head men's golf coach at Rutgers, was looking for a way his team could honor fallen or disabled American heroes. Shutte collaborated with Tony Biata, PGA of America member and vice president of Patriot Golf Day with Folds of Honor, to create the program and secure the support of the GCAA and WGCA.
"The Folds of Honor Military Tribute Program allows student athletes to gain perspective on freedom, camaraderie, charity, and the sacrifices made by our nation's service members," said Shutte. "This program gives teams the opportunity to bring the families of these fallen heroes into a supportive setting to honor and remember their loved ones' sacrifices, helping with the healing process by cherishing memories and ensuring that these American heroes will never be forgotten."
Member schools can select a local military hero to honor or can request assistance from the GCAA or WGCA in identifying a service member. Participating schools will be asked to promote the program through their own athletic website and any other suitable forms of social media throughout the school year and will also be recognized by both the GCAA or WGCA and Folds of Honor on their respective websites.
"On behalf of our membership, we are so excited to announce the Folds of Honor Military Tribute Program as a way to honor our fallen heroes and benefit the Folds of Honor," said GCAA President Todd Satterfield. "We think the program will have a lasting impact on the lives of our student-athletes and pay tribute to the men and women who gave their lives to protect our freedoms."
"The coaches of the WGCA and our student-athletes are proud to acknowledge the sacrifices of our military members as part of the Folds of Honor Military Tribute Program," said WGCA President Amy Bond. "It's a great way for us to give back through the game of golf and benefit the lives of others."
As of January 1, 2014, more than 1.4 million dependents have been affected by multiple deployments to Iraq and Afghanistan, and more than 87% of the dependents affected by the recent wars do not qualify for federal scholarship assistance*. While the federal government provides some support for these families, it cannot succeed alone without proactive civilian organizations to assist in funding educational opportunities.