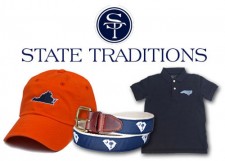 Line Offers Golfers Unique Way to Show State, Team Pride
(BIRMINGHAM, AL) – State Traditions announces that its 2014 collection of state-inspired apparel and accessories is now available at finer green grass shops and resorts nationwide and on the brand's website www.statetraditions.com.
Using the outlines of all 50 states, State Traditions offers golfers a subtle, sophisticated alternative to flashy logos in order to celebrate state or fan pride. Each piece in the extensive collection – which includes caps, visors, polos, belts, neckwear, and button-front shirts – offers a choice of state silhouette in its respective flag pattern or colors reflective of its popular sports teams.
"Our brand connects emotionally with consumers, everyone has a home state, alma mater or favorite team," says Keith Brown, President of State Traditions. "Whether it's on a golf trip with buddies or at a gameday tailgate, our pieces communicate those feelings in a timeless way."
Retailing from $3 to $80, the State Traditions 2014 lineup is anchored by its robust headwear range. The 100-percent cotton caps and visors marry classic style with modern design elements suitable for both sporting and everyday activities.
Additional standouts include the brand's colorful belt program, featuring both embroidered and ribbon designs with brass and leather accents, along with short-sleeve polos crafted from ultra-soft Pima cotton and performance fabrics. These highly-versatile pieces transition seamlessly from the golf course to casual weekend wear.
A variety of non-apparel items are also available, including rocks glasses, premium ball markers and divot repair tools, iPhone covers and key fobs.
For more information: www.statetraditions.com, 205-254-8933.
About State Traditions
Based in Birmingham, Alabama, State Traditions creates top-notch, state and country-inspired apparel and accessories that reflect traditions across America and the world. The brand strives to connect customers with hometown pride, favorite pastimes and sporting allegiances through quality products and memories to last a lifetime.
The State Traditions clothing line can be found in finer golf shops, men's clothiers, outdoor specialty stores and children's boutiques nationwide and via www.statetraditions.com, 205-254-8933.