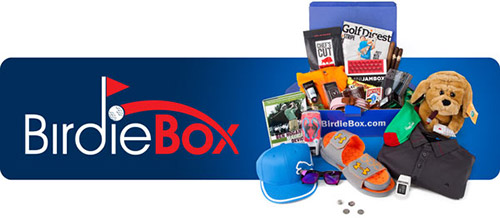 Themed Premium Merchandise Package Ships Early April
(SCOTTSDALE, AZ) – BirdieBox – a discovery shopping service created specifically to satisfy the needs of the golf community – announces its highly anticipated First Major Box is available as a limited-edition for ordering through Thursday, April 13.
Shipping starting April 1, the exclusive package contains premium products themed to the year's inaugural major championship. Available at www.BirdieBox.com, the First Major Box boasts a retail value in excess of $230 yet costs just $99.95. Its contents include:
Travis Mathew "Our Favorite Time of Year" shirt
KENTWOOL "Bubba Green" performance socks
Club Glove green microfiber Caddy Towel
Back9 custom magnolia flower driver head cover
M-Clip green alligator skin cuff links
"From the day we launched, the volume of subscribers and pace of our growth has exceeded our lofty expectations and a lot of our members have been inquiring about specialty boxes like this offering," says Keith Bolognese, Founder and CEO of BirdieBox. "We've delivered with a cross-section of Tour-proven gear and choice products that celebrate the pageantry of the year's first major championship."
As the season progresses, BirdieBox will offer specialty boxes celebrating golf's the other majors, as well as Mother's Day, Father's Day, Christmas and the Ryder Cup.
BirdieBox's core monthly subscriptions remove all the hassle from shopping and add an element of "gift euphoria" by using the personal preferences of each member as the basis for every delivery. Packages include a selection of the hottest golf, lifestyle and nutritional items from major brands – plus the current issue of Golf Digest – all bundled in a stylish gift box. Offered in one-, three-, six- and 12-month options, subscriptions range from $41.65 to $44.95 per month. Retail value of each delivery is $100 or more.
Beyond individuals, BirdieBox is an entirely new way to source an unforgettable gift for corporate, charity or country club events. A team of experts will work within a set budget to create a truly unforgettable package. Adorned with a logo of the customer's choice, each finely-appointed, custom-curated assortment is hand-selected to precisely match designated preferences and impress guests.
More information: www.BirdieBox.com or @BirdieBox.