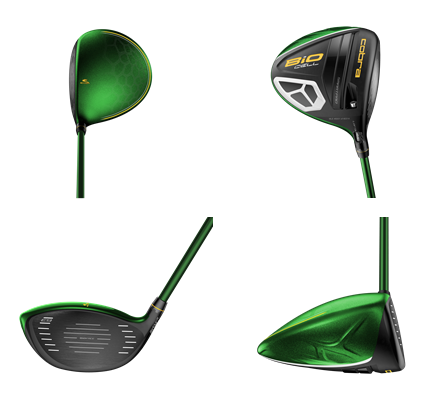 Limited Edition Introduction of New Color BiO CELL Celebrates the Season's First Major
CARLSBAD, Calif. (MARCH 3, 2014) – With the 2014 golf season in full swing and the first Major right around the corner, COBRA is helping golfers make a splash on the course with the release of a Limited Edition Green BiO CELL Driver. COBRA Golf's BiO CELL Driver, designed to help golfers Go LongTM, is equipped with MyFly8TM, SmartPadTM and BiO CELL E9 FaceTM Technologies to help manage trajectory and provide unmatched distance.
Beginning on March 15, only 2,014 units of the Limited Edition Driver will be available at select golf retailers around the world. Each driver is laser-marked sequentially 0001 of 2014 on the sole for authenticity.
"There is so much buzz in the golf community surrounding the first Major of the year, and the Limited Edition Driver helps bring some of that excitement to the COBRA Brand," said Tom Olsavsky, vice president of R&D. "This driver showcases our game-changing technologies, including MyFly8, SmartPad and E9 Face, that delivers increased distance, while the Limited Edition Green allows us to celebrate one of golf's premier events."
The MyFly8 technology provides golfers the option to adjust their trajectory to eight different loft settings, including 9.0°, 9.5°, 10.5°, 11.5°, 12.0°, and three draw settings in 9.5°D, 10.5°D and 11.5°D. Utilizing SmartPad technology, the face angle will stay square at address regardless of the loft setting.
The internal BiO CELL structure with E9 Face Technology removes weight from the crown, face and hosel and repositions it low and back to deliver a low CG and higher MOI for maximum distance. The repositioned weight provides a larger effective Sweet Zone® to deliver longer and straighter drives, even on mis-hits.
The Limited Edition Green BiO CELL Driver (MAP $399) features an Aldila ATX Tour Green shaft, a COBRA Lamkin Ace 3GEN 360 grip and is available in right-handed (x-stiff, stiff and regular flexes) and left-handed (stiff and regular flex only) models. The Limited Edition grip, BiO CELL Headcover and wrench come in matching green and white.
To find an authorized COBRA dealer near you, visit http://cobragolf.com/dealer-locator