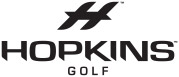 NEWPORT BEACH, CA – February 17, 2014 – Hopkins Golf is proud to offer their entire line of CJ-1 wedges in Satin Chrome. This includes a full range of men's, women's and left-handed clubs that range from 46 to 64 degrees of loft in two degree increments. The company previously had only Tour Raw and Black Satin finishes available.
"We are continuing to grow and build our brand," said Greg Hopkins, Chairman and CEO. "With the addition of Satin Chrome, we have our bases covered for the entire wedge market."
Hopkins started last summer with Tour Raw (unchromed) wedges as that's what most tour pros prefer. That was followed up by Black Satin for a different look. The new Satin Chrome finish offers classic beauty and durability and is arguably the most popular finish of all time. CJ-1 wedges are made with 8620 carbon steel in all three finishes for enhanced feel and playability. Custom grinds on the soles of the wedges are available in all of the finishes as well. Click HopkinsGolf.com to view the new wedges.