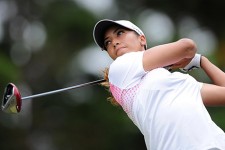 Nike Athlete Cheyenne Woods Wins her First Title on a Major Professional Tour With New Nike Equipment
– Woods maintains focus and seals the deal with new Nike VRS Covert 2.0 driver and Nike RZN Black ball –
BEAVERTON, Ore. (February 9, 2014) – Nike athlete Cheyenne Woods held steady to capture her first victory on a major professional Tour at the Volvic RACV Ladies Masters in Australia, sanctioned by the Ladies European and Australian Tours.
Woods, who joined Nike's athlete roster in 2012, birdied the final hole to win by two strokes.
"I played really steady," said Woods. "I didn't panic. I'm just really excited for whatever this leads me to."
Highlighting her bag of Nike equipment was the new Nike Covert 2.0 driver, which became available to consumers just nine days ago, and the new Nike RZN Black golf ball that will launch on March 1. Woods is the second Nike athlete following Rory McIlroy to win with this new driver/ball combination featuring Nike Flybrace and Speedlock technology. The marriage of these two technologies has resulted in faster ball speed, forgiving distance and more stability in the wind.
In addition to Woods' Nike equipment, she wore apparel from Nike's Tour Performance Women's collection and the Nike Lunar Embellish shoe.
____________________________
Woods' Nike Golf Arsenal
Driver: Nike VRS Covert 2.0 10.5-degree
Fairway Wood: Nike VRS Covert Tour 3-wood/15 degree
Hybrids: Nike VRS Covert 24-degree; Nike VRS 21-degree
Irons: Nike VR Pro Combo (5-PW)
Wedges: Nike VR Pro 52-degree; 56-degree and 60 degree
Putter: Nike Method Midnight 008
Ball: Nike RZN Black
Apparel: Nike Tour Performance Women's Collection
Footwear: Nike Lunar Embellish
_______________________________
Nike Golf's 2014 International Victories
Charl Schwartzel – Alfred Dunhill Championship (European Tour)
Nike Golf's 2014 Ladies International Victories
Cheyenne Woods – Volvic RACV Ladies Masters