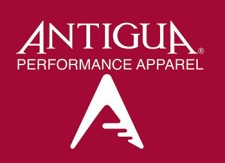 PEORIA, AZ – The Antigua Group, Inc. – one of the nation's leading designers and marketers of lifestyle and golf apparel under the distinguished Antigua brand – has introduced its Antigua Spring 2014 Women's Golf Collection.
"The Spring 2014 Performance Collection promises to be the best selling in our history," said Ron McPherson, president and CEO of Antigua. "The collection has color, style, sophisticated fabrics and a perfect mix of silhouettes. Our early bookings are off the charts."
The new collection features bold ombre stripes, lightweight mélange fabrics and textured jacquards. It's all about sheer comfort, as these garments incorporate innovative poly yarns that allow for softer, smoother, and more comfortable fabrics.
Danielle Dellios, Antigua Women's Head Designer, says she was looking to achieve something new and different for Spring of 2014 – in terms of both silhouette and fabrication. "I began designing the collection around a textured fabric I had previously developed, along with new heather fabrics that I'd been working on with different mills," says Dellios. "One new polo model, Primp, is an excellent example of fabric innovation. Its mélange texture and color effect are unique in that they're achieved by mixing different types of irregular poly yarn."
Necklines have also become more open and fun. In fact, several of the polos have non-traditional necklines. Limitless is a model that features a dye-cut neon zipper. Another style, Pristine, has an open scoop neck with contrast V-stitching. It's these neckline innovations that allow the product to look new to the customer. Although these styles still have the required collars, they're far from being traditional polos.
As for color, neons that are popping up in everything from home furnishings to accessories and cosmetics. Thus, the 2014 Spring color palette includes versions of neon and ultra-bright hues. These pop colors, coined Citrine, Candy, Sherbet and Grapeade, are tastefully added to garments in small doses and utilized in contrast stitching, insets, zippers and tipping.
Technology is also featured in the collection. For example, our exclusive Desert Dry™ technology absorbs and wicks moisture quickly and evenly, achieving the most-efficient evaporation possible to keep golfers comfortable and dry. The fabrics in our Gem and Breathe polos utilize a pattern to allow for quick moisture displacement. Gem features a tonal geometric patterned face with a flat back, allowing a smooth, silky feel against the golfer's skin, while Breathe features a pointelle texture vertical stripe pattern that maximizes comfort by keeping air flowing throughout the garment.
Meanwhile, Desert Dry™ XTRA-LITE (D2XL) combines the Desert Dry™ moisture-wicking feature with specially constructed ultra-light fabrics for maximum wicking performance and optimum comfort. Examples include Frill, Caliber and Cinch. Although Frill is a woven jacket, its fabric is ultra-lightweight, soft and stretchy. Its textured backside keeps moisture off the body by picking it up off the skin and transferring it to the outside of the garment. This lightweight woven fabric features a heather print that makes the style look more like a casual piece and coordinates with any color polo and bottom.
Caliber is also D2XL- but feels less light than other D2XL styles in the collection because it features a double knit mesh construction. This allows for a thicker/less sheer look and hand to the fabric, while still maintaining the lightweight properties of our D2XL styles.
Cinch is a knit skort using ultra-soft and stretchy micro-jersey fabric. Its elastic tie detail at the front allows the golfer flexibility in length and provides some coverage for those who wish to have a longer skort. By using the lightweight stretch jersey material, the Cinch wicks super-fast and fits many different body types.
For more details on Antigua's Spring 2014 Women's Golf Collection, visit www.antigua.com.
About Antigua
Headquartered in Peoria, Arizona, The Antigua Group, through its license sports division, holds license agreements with National Football League (NFL), Major League Baseball (MLB), Minor League Baseball (MiLB), National Hockey League (NHL) and the National Basketball Association (NBA), along with numerous American universities and colleges for men's, women's and children's apparel, headwear and outerwear. Antigua additionally designs, produces and supplies product for corporate America and specialty retail managed under its corporate division. Its golf division also holds license agreements with the PGA TOUR, LPGA and the PGA of America. Antigua products can also be found online at shop.antigua.com