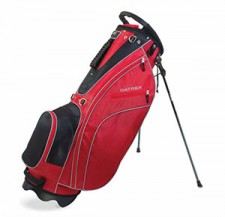 New Carry Lite Stand Bag Weighs Only 5 Pounds
Datrek added a new Carry Lite stand bag to its line for 2014. The sleek design of the Carry Lite stand bag features an 8-way mesh padded top with the IDS System Individual Divider System (IDS), plenty of storage space and weighs only 5 pounds.
Made of durable nylon material, the Carry Lite features an eight-way mesh-padded top with full-length individual dividers and an ergonomic handle integrated into the top. There is ample storage room with five pockets including a large apparel pocket, a fleece-lined valuables pocket, an insulated beverage sleeve and an oversized ball pocket. The Carry Lite has a padded double shoulder strap and hip pad to make walking and carrying easy and comfortable.
An additional feature of the Carry Lite stand bag is a cart friendly base that is adaptable for push carts and riding carts. Also for the golfer's convenience the stand bag has a towel ring, Velcro® glove holder and umbrella holder.
The Carry Lite stand bag is available in four color patterns – black/charcoal, red/black/silver, white/black/charcoal and royal/black/silver. The suggested retail is $119.95 and will begin shipping to golf shops and golf specialty stores mid-October.