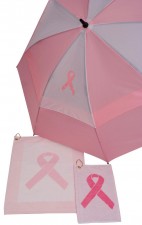 October is Breast Cancer Awareness month and Devant is helping generate awareness and support with its Pink Ribbon collection. A portion of the sales of the Pink Ribbon collection will go directly to breast cancer research at the Virginia Commonwealth Massey Cancer Center, located in Richmond, Va.
Pink Ribbon Image Dye Edge Towel
Devant offers a Pink Ribbon Image Dye Edge towel that is a super absorbent, 100 percent cotton golf towel with a soft pink border and pink ribbon design. The towel is 16×25 inches with a solid brass Lock Clip™. The towel retails for $19.95.
Pink Ribbon Spirit Towel
The Pink Ribbon Spirit towel is a woven, 100 percent cotton towel with a sheared velour finish. The 8×16 inch soft pink towel features a woven pink ribbon design in the center. The towel has a solid brass Lock Clip™ and the suggested retail is $7.95
Pink Ribbon Wind Vent Umbrella
The Pink Ribbon Wind Vent umbrella provides maximum protection against strong winds and heavy rain. The 62 inch umbrella has a fiberglass shaft, non-slip molded grip and a double canopy that is wind resilient. The umbrella has a pink border and white and pink panels with a pink ribbon in two panels. The suggested retail is $24.95.