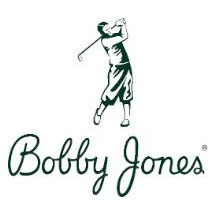 Golf's Premier Luxury Lifestyle Brand Delivers Performance Poly with Elegance
New York, NY – Bobby Jones, celebrating the iconic apparel brand's 25th anniversary in 2014, today unveiled its Spring 2014 Collection of performance knit polo tops. The Spring 2014 XH2O line from Bobby Jones offers the impeccable detail and style that is characteristic of golf's premier luxury lifestyle brand, integrated into performance poly garments that provide ultimate moisture wicking function, UV protection and breathability.
The range of the new XH2O poly line — 12 distinctive styles of polo shirt — all deliver remarkable moisture-wicking performance and are perfectly tailored for off-course daily use as well as high performance on-course sportswear. Each of the shirts features Polyester/Lycra blend construction for quick drying, UV protection (UPF 15) and an anti-microbial shield. With attention to both function and form, the garments' shoulder-to-shoulder stretch taping complements athletic movement during a golfer's swing while fortifying the polos' seams for maximum durability.
Highlighting the XH2O 2014 Spring offering are three specific styles of polo – Performance Pique Solid, Hook Stripe and the Bi-Ply Stripe.
The XH2O Performance Pique Solid polo features a flat knit collar with 3% Lycra for added shape-support wash after wash.
The XH2O Performance Pique Solid impresses with 11 vivid color options (Black, Cerulean, Classic Blue, Kelly, Lapis, Mandarin, Pineapple, Poppy, Salmon, Turquoise and White), sure to please the most discerning of golfers.
The XH2O Hook Stripe sports a Jacquard textured striping pattern, solid collar and a contrast under collar with tipping for a stunningly modern, yet refined look. The Hook Stripe presents in 10 beautiful hues (Black, Cerulean, Grey, Lapis, Pineapple, Poppy, Salmon, Tangerine, Turquoise and White).
Reflecting impressive attention to detail, both styles of polo feature buttons produced under a proprietary 5-step process that includes electroplating to create an appearance that mimics a golf ball's dimples. Each of the styles also utilizes a 3-button placket featuring an updated color version of the trademark Bobby Jones Player embroidery and XH2O rubber logo on the back collar.
For the golfer who prefers a zipper closure to the traditional 3-button placket, Bobby Jones has introduced the Bi-Ply Stripe polo. This garment features a flat knit solid collar with 3% Lycra for added shape-support and Jersey striping throughout the body. The Bi-Ply is distinct from the rest of the XH2O line with a Bobby Jones script logo Jacquard under collar. The Bi-Ply Stripe polo is available in 3 striking shades (Lapis, Salmon and Turquoise).
Bobby Jones XH2O polos will be available at green-grass shops by January 25, 2014.
"Some people claim that you can't make a clothing brand relevant today if the brand's namesake was at the height of his popularity 80 years ago," said Andy Bell, President/CEO of Jones Global Sports. "The truth is that they don't get it. Bobby Jones dressed the way he did in the 20's and 30's because he embodied the cutting-edge styles that men of distinction wore during that period. Today, Bobby Jones would much more likely be seen in performance polo's that showcase class and style while ceding no competitive edge to his opponents in terms of comfort and performance. That combination of style and performance is at the heart of this XH2O line. Everyone who gives these garments a try will agree; in a real sense, it's classic Bobby Jones."
For a quarter century, Bobby Jones has provided luxury men's and women's sportswear, including polo shirts, button downs, shorts, slacks and sweaters/knits to demanding consumers looking to exude a classy, cool confidence on and off the course. The Bobby Jones brand can be found at the finest golf clubs, resorts and haberdasheries in the world. For more information on the Bobby Jones brand, visit www.bobbyjones.com.