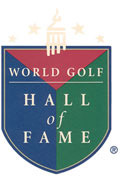 Multimedia and interactivity large part of redesigned website
St. Augustine, Fla. (Aug. 26, 2013) – A full library of multimedia, increased functionality and interactivity are all part of the redesigned World Golf Hall of Fame & Museum website. The new site, which launched today, offers viewers a unique look into all 146 Hall of Fame members, every Induction Ceremony since 1998 and every exhibition within the Museum in St. Augustine, Fla.
New features of the redesigned WorldGolfHallofFame.org include:
Upgraded member pages: Each member's page has been redesigned to include photo and video galleries with highlights of their career and the ability to reach out to them via a Connect tab.
Redesigned member search: A new database has been created to allow visitors to search for Hall of Fame members in a variety of ways, including year and category of induction, nationality and even major championship victories.
Induction Ceremony archive: Multimedia and details from each Induction Ceremony dating back to 1998 are included an improved archive.
Interactivity: The Hall of Fame's Facebook, Twitter and Youtube pages have been integrated throughout the new site, as well as the option to sign up for newsletters.
Increased functionality: Visitors will be able to easily search Hall of Fame activities in a new Event Calendar, get an in-depth look at each exhibit with new multimedia galleries and learn more about Hall of Fame members through an innovative "Member scroll" bar throughout the site.
"This website is an exciting, important step forward for the organization," said Jack Peter, Chief Operating Officer of the World Golf Hall of Fame. "From watching memorable Induction Ceremony speeches, to learning about the latest exhibition at the Museum, to connecting with Gary Player on Twitter, this site is informative, engaging and an excellent tool for golf fans around the world."
For more information and to explore its new tools, visit the redesigned site at WorldGolfHallofFame.org.