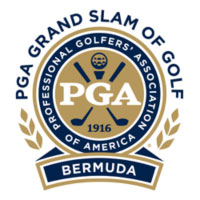 ELITE FOURSOME DETERMINED FOR 31ST PGA GRAND SLAM OF GOLF; MAJOR CHAMPIONS SET FOR SHOWDOWN, OCT. 14-16, IN BERMUDA
PALM BEACH GARDENS, Fla. – Masters Champion Adam Scott, U.S. Open Champion Justin Rose, PGA Champion Jason Dufner and defending PGA Grand Slam of Golf Champion Padraig Harrington form the elite foursome who will compete in the 31st PGA Grand Slam of Golf, Oct. 14-16, at Port Royal Golf Course in Bermuda.
Scott, Rose and Dufner will make their first appearance in the PGA Grand Slam of Golf, while Harrington is making is fourth visit to the Island. Harrington won last year's event and finished runner-up in 2007 and '08.
Harrington, whose one-stroke triumph in 2012 made him just the second European-born winner in event history, replaces Open Champion Phil Mickelson, who will be unable to compete due to an end-of-season scheduling conflict.
The defending champion of the PGA Grand Slam of Golf receives the initial invitation if a current major champion is unable to compete; then the Major Champions Points list – which charts the performance throughout the year of active major champions – is used to complete the field.
Tickets for the 31st PGA Grand Slam of Golf may be purchased by dialing 1-800-PGA-GOLF (800-742-4653), or 561-624-7601, or by visiting www.pgagrandslamofgolf.com
The PGA Grand Slam of Golf
Established in 1979, the PGA Grand Slam of Golf has grown from an 18-hole, single-day charity event to a 36-hole annual showdown that matches professional golf's best against each other for a $1.35 million purse. TNT will televise the PGA Grand Slam of Golf to 88 million U.S. households, and it is seen in more than 100 countries.
About The PGA of America
Since its founding in 1916, The PGA of America has maintained a twofold mission: to establish and elevate the standards of the profession and to grow interest and participation in the game of golf. By establishing and elevating the standards of the golf profession through world-class education, career services, marketing and research programs, The PGA enables its Professionals to maximize their performance in their respective career paths and showcases them as experts in the game and in the multi-billion-dollar golf industry. By creating and delivering world-class championships and innovative programs, The PGA of America elevates the public's interest in the game, the desire to play more golf, and ensures accessibility to the game for everyone, everywhere. As The PGA nears its centennial, the PGA brand represents the very best in golf.