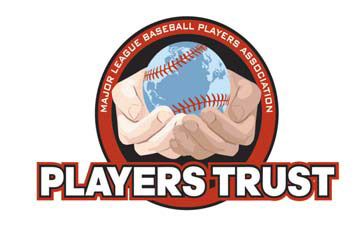 Hall of Famer Jim Rice, Ken Griffey, Jr., Gary Sheffield and Jim Bouton among former players scheduled to join Ike Davis & David Robertson for Superstorm Sandy benefit golf tournament on Bethpage Black
New York, NY, Monday, July 8, 2013 – New York Mets first baseman Ike Davis and New York Yankees relief pitcher David Robertson are representing their peers and going to bat for Superstorm Sandy victims, when they co-host a Players Trust all-star golf tournament on Bethpage Black in Farmingdale, Long Island on Wednesday, July 17.
Scheduled to tee off and help Ike and David in their efforts to assist those still suffering from Sandy is a who's-who list of former Major Leaguers, including Jim Rice, the Hall of Fame Boston Red Sox outfielder and Jim Bouton, the former Yankees pitcher and author of the best-selling book, Ball Four, still considered one of the best sports books ever written.
Former AL MVP Ken Griffey, Jr. and nine-time All-Star and former New York Mets and Yankees outfielder Gary Sheffield will also be on hand to help support the Players Trust's disaster relief efforts, as are a number of former big leaguers including Bobby Bonilla, Phil Bradley, Mike Cameron, Frank Catalanotto, Royce Clayton, Jose Cruz, Jr., Ron Darling, Rick Helling, Al Leiter, Jim Leyritz, Jeff Nelson, Steve Rogers, Reggie Sanders and Chris Singleton.
Golf tournament participation levels begin at $2,000 for an individual golfer. Foursomes begin with the $8,000 Single, which includes one foursome with a celebrity pairing, a gift bag and photo for each golfer, and four tickets to the post-event dinner, to be held at luxurious Carlyle on the Green.
Double, Triple and Home Run sponsorship levels are also available, and each includes tickets to the Trust's exclusive 2013 Major League Baseball All-Star Game viewing party to be held the night before the golf tournament at Manhattan's St. Giles Hotel and attended by many of the celebrity golfers. Portions of the cost to attend the golf tournament are tax deductible.
For more information, please visit MLBPlayers.com (http://www.mlb.com/pa/trust/allstar_golf.jsp), call 888-714-0755 or send an e-mail to PlayersTrust@mlbpa.org.
The Players Trust All-Star golf tournament enjoys the support of WFAN, SNY and Long Island Business News. WFAN's Mike Francesa will broadcast his show live from the Black course on July 17.
The Players Trust all-star golf tournament is part of the non-profit's Disaster Relief programming efforts. In addition to what many players have done individually, Major Leaguers have committed up to $500,000 in aid from the Players Trust to non-profit organizations helping victims of Sandy recover from the destruction. To date, the Players Trust has directly contributed more than $175,000 to various organizations providing needed assistance to storm victims. Among those receiving funds are Red Hook Initiative (Brooklyn); Project Hospitality (Staten Island); Rockaway Reach (Rockaway, NY); NJ 2-1-1 (New Jersey); Pitch In for Baseball and Points of Light's Long Island Recovery Volunteer Center. A separate $100,000 contribution from the Players Trust to New York State's Natural Heritage Trust will go toward the removal of hundreds of downed trees and improvements to damaged turf on public golf courses.
On November 2, 2012, Major Leaguers joined forces with the Commissioner's Office in contributing a combined $1 million to the American Red Cross, the Salvation Army and Feeding America to assist emergency relief efforts in the most devastated areas along the East Coast affected by Sandy. On May 9, the MLBPA and MLB-operated Baseball Tomorrow Fund joined with the New York Mets Foundation to contribute up to $1 million through a relief grant program for youth baseball and softball organizations that were directly affected by the storm.
Since hurricanes struck the U.S. Gulf Coast in 2005, the Players Trust has contributed more than $3 million in the wake of natural disasters in the U.S., Haiti and Japan, long after the spotlight faded. These funds have been used by non-profit organizations to provide and/or sustain services and aid such as senior housing, mobile medical units and after school programs in the Gulf Coast; improved drinking water, medical supplies, prosthetics and training in Haiti; mobile community cafes, organic agriculture, mental health clinics and volunteer centers in Japan and new homes for families in tornado-ravaged Tuscaloosa, AL and Joplin, MO.
Golf lineup as of 7/8/13 and subject to change.
About the Major League Baseball Players Trust
Through the Players Trust, Major Leaguers contribute their time, money and celebrity to call attention to important causes affecting the needy and to help encourage others to get involved in their own communities. Each year the Players Trust distributes more than $1.5 million in annual grants and programs, and inspires hundreds of thousands of high school students to volunteer in their communities through the Action Team national youth volunteer program.
For additional information, please visit www.MLBPLAYERS.com and visit the Players Trust channel on YouTube at http://www.youtube.com/user/MLBPlayersTrust. Follow the Trust on Twitter: @MLBPlayersTrust.