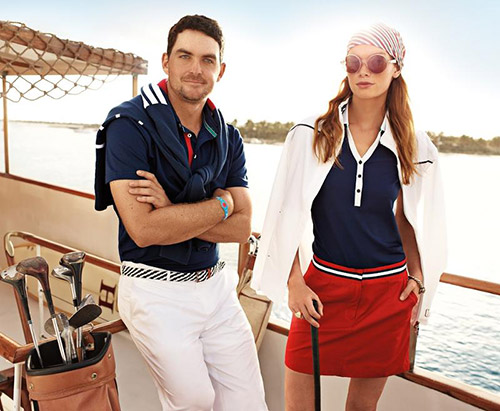 NEW YORK, NEW YORK – The Tommy Hilfiger Group, which is wholly owned by PVH Corp. (NYSE: PVH), is pleased to introduce the Fall 2013 men's and women's golf collections offered by The Fletcher Leisure Group.
The Fall 2013 collections feature three deliveries inspired by the preppy heritage and energetic spirit of the Tommy Hilfiger brand. The first delivery draws inspiration from top golf destinations of the American West, such as Canyon Springs. Pieces include modern golf classics like striped polos and plaid sweaters rendered in blue and white with pops of bright orange. Delivery two incorporates the international vibe of Stockholm, Sweden, with tailored pieces featured in a muted palette of black, heather grey and cobalt with accents of light blue, yellow and lavender inspired by a city at sunrise. The final delivery highlights a jewel tone color palette inspired by autumn foliage and New England's prep school traditions, with burgundy, navy and dark green grounded with touches of yellow and blue.
Key to the collections are designs that incorporate performance fabrics. TH Tech is a 100% polyester fabric used as the foundation for the golf collection to combine style and comfort with moisture wicking capabilities that keep garments dry and provide anti-odor properties essential in a technical garment. TH Comfort Tech is a hybrid cotton fabric that combines style and comfort with the functional properties required in performance driven garments. TH Cotton supplements the performance fabrics to ensure superior quality and comfort.
In early 2012, Tommy Hilfiger announced Keegan Bradley, the 2011 PGA Championship winner and PGA Tour Rookie of the Year, as the global ambassador for the Tommy Hilfiger Golf men's collection through 2014. Since January 2012, Bradley has been representing the brand at major tournaments, outfitted in select pieces from the men's golf collection.
Targeting both men and women golfers, the Tommy Hilfiger Golf collections offer a wide selection of merchandise. The men's collection includes approximately 100 styles with expected retail prices ranging from $50 (€60/£50) for short-sleeved polos to $140 (€140/£115) for sophisticated outerwear options. The versatile women's collection includes approximately 75 styles with expected retail prices ranging from $50 (€60/£50) for bermudas and polos to $120 (€140/£115) for knits and outerwear.
Through a license agreement with The Fletcher Leisure Group, the men's and women's golf collections are available in the U.S., Canada and Europe at private and public golf clubs, golf specialty stores, sport specialty stores, and select resorts, as well as in the corporate channel and on tommy.com. Tommy Hilfiger launched men's golf apparel in 1994 and expanded into women's golf apparel in 2000; in 2004 the collections were introduced in Europe.