With its 662-horsepower supercharged 5.8-liter V8 engine, the Ford Mustang Shelby GT500 is a fantastic way to get to the links with plenty of room for two golf bags in the trunk. Unfortunately most greens-keepers won't appreciate the way it tears up the lawn.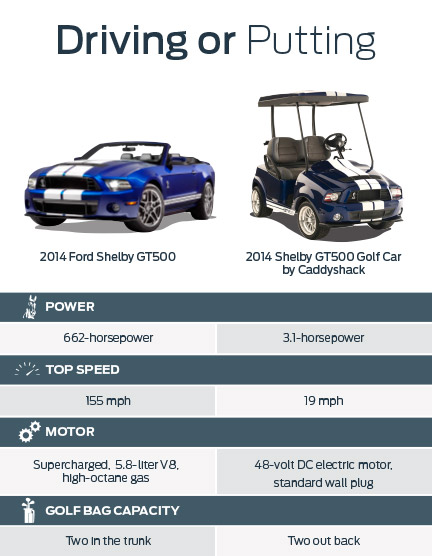 Thankfully, Ford is unveiling the Mustang Shelby GT500 golf car — just in time for Father's Day. Produced in conjunction with California-based premium golf car manufacturer, Caddyshack, the golf car is instantly recognizable thanks to the unique Mustang design. Caddyshack worked with Ford to get the appearance just right.
Road-going GT500s are motivated by the world's most powerful V8 engine, a 662-horsepower 5.8-liter supercharged V8 – more than 200 times the power of the electric golf car. Whereas the real car can hit 200 miles per hour (155 mph for the convertible), the Shelby GT500 golf car has a top speed of 19 mph and room for two golf bags in the back.
The golf car is offered in six colors including Ford factory options such as Deep Impact Blue, Race Red, Grabber Blue and Performance White so you can get one to match your full-size GT500.
Caddyshack is the first golf car manufacturer officially licensed by Ford Motor Company to provide golf cars that replicate the appearance of production Ford vehicles starting with the new Shelby GT500. The Shelby GT500 is the first of what is planned to be a series of Ford-derived golf cars including the Mustang Boss 302 and F-150 SVT Raptor.
In addition to the golf car, fans can show off their Mustang pride on the links with branded Umbrellas, caps and polo shirts.
The Caddyshack Mustang Shelby GT500 golf car is available now through select Ford dealers and http://shopfordmerchandise.com for $15,490